Cabbage can take either center plate or a supporting role at dinner with this month's recipes.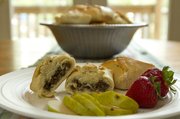 Delicious
I think Sarah was a little surprised when I mentioned I'd like to have cabbage be our ingredient of choice this month.
Really? Cabbage? She's a good sport and game for anything, so she played along.
I admit my motive was ulterior. We had a brief cool snap for a few days, and some rain, and it made me crave fall food. I had visions of chili, of chicken and noodles, and of bierocks.
Bierocks are an old German staple that, while fairly ubiquitous in the midwest, are something of a mystery to many of my friends not from 'round these parts.
Basically, they are a homemade hot pocket. And I love them. Dipped in a little good mustard, there's not much I wouldn't do to get my hands on one.
I suggested cabbage to Sarah for this month's column so I'd have an excuse to devote a little time to crafting these homemade "Runzas" for my family and me to enjoy.
Bierocks are great because they make for an excellent sit-down dinner, but they can also be hand food — ideal for my husband who packs his lunch but doesn't have anywhere to sit and eat since he's on the road all day. He can't whip out a fork or spoon and doesn't have access to a microwave, so a bierock is an excellent substitution for his usual midday turkey sandwich. It's a perfect lunch for my meat-and-potatoes man.
You have to have some prep time set aside for these treats, but they're not very difficult. It's just a matter of allowing time for dough to rise.
Start with the bread:
2 1/2 teaspoons yeast (roughly one packet)
1/2 cup warm water
2 tablespoons sugar
1/2 cup milk
2 tablespoons vegetable oil
1/4 tsp salt
2 eggs
4 cups flour
Begin by "proofing" your yeast. Basically, you are making sure your yeast is good and active before you continue. Combine the warm water and the yeast and walk away for five minutes. When you come back, the yeast should be bubbling a little.
Next, add the sugar and whisk together. Then add the rest of the ingredients.
I use my KitchenAid mixer with the dough hook, and the combining/kneading is short work.
If you don't have one, just combine with your hands until the dough comes together, and then fold and knead a few times. It doesn't take much kneading at all.
Set the dough aside in a fairly warm place and cover with a towel. Let it rise for an hour.
In the meantime, start your filling:
2 lbs hamburger
1 teaspoon salt
1 teaspoon seasoning salt
1 teaspoon pepper
2 cups thinly sliced cabbage
1/2 c diced onion
shredded cheddar, optional
1 egg, optional
Brown the hamburger with the onion and drain off the grease, reserving 1 tablespoon.
Add the reserved grease and the cabbage to the skillet with the seasoning, and stir until the cabbage wilts a little bit.
When your dough has risen, punch it down, wait five minutes, and then halve it and roll it out.
Cut it into squares. Each half makes nine or 10 squares, depending how you cut it.
Preheat your oven to 350 degrees.
You will want a cup of water nearby with which to wet the edges of each square. I do it with my fingers, but you can use a pastry brush if you are fancy. Just dampen all the way around a square, add a heaping spoonful of meat mixture, then pull up the opposite corners and seal the edges.
(Traditional bierocks do not have cheese, but I happen to like cheese, so I say, "Why not?" I usually sprinkle a little shredded cheddar atop my meat mixture before I seal it up.)
I like to do an egg wash on the tops of my bierocks, just for color, but it's not necessary. If you want to do so, just beat an egg with a tablespoon of water in a small bowl. Again, I do this with my fingers but you could use a pastry brush. Spread egg wash over the tops of the bierocks.
Bake them for 20 minutes or until the tops are lightly golden brown.
I serve them with mustard. You can make a "fancy" mustard dipping sauce if you are so inclined:
1/4 cup mustard
1 tablespoon mayonnaise
1/8 teaspoon garlic powder
1/4 teaspoon sugar
salt and pepper
I think this is a yummy addition to the bierock, but truly, a dollop of plain French's is pretty hard to beat.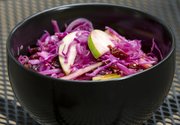 Nutritious
As I kid, I actually loved cabbage.
I know this isn't normal, because the smell, the taste, the just plain "cabbagy-ness" of it encourages many children to pinch their noses and run from the dinner table in a forfeiture of dessert.
But, honestly, when you learn about how I ate it, it's not really a surprise that I loved it: boiled to utter blandness and smothered in butter. Though, it was the late '80s, so it was probably margarine, not butter, but you get the idea.
Cabbage was just a vehicle for butter. Like bread. Smelly, smelly bread.
The fact is, I probably didn't actually eat cabbage in any form other than a butter vehicle or coleslaw until I was 28 or so.
Of course, I'd had red cabbage as some sort of sad, shredded salad ingredient, but I didn't really go out of my way to eat cabbage until I started getting a CSA share. That's when I realized that cabbage could be more that just some stinky afterthought.
This dish is beautiful, healthy and so delicious you might forget about the rest of your dinner if you make it a side. Even my cabbage-hating husband gobbled it down. My son wasn't a fan, declaring "I hate that smell, Mommy!" — but at least he agreed it's pretty.
Red Cabbage and Mustard Sauté with Tart Apples and Cherries
7 cups shredded red cabbage (about 1/2 one large head)
1 1/2 cups dried cherries (tart but sweetened)
2 medium Granny Smith apples
1 halved, thinly sliced sweet yellow onion
1 1/2 tablespoons olive oil
2 tablespoons mirin (or other cooking wine)
2 tablespoons mustard seeds
2 tablespoons maple syrup
2 tablespoons apple cider (or apple juice)
2 tablespoons apple cider vinegar
In a sauce pan, sauté onion in the olive oil over medium heat until soft — about 5 minutes. Stir in cabbage, cherries and mirin. Keep stirring until the cabbage starts to soften, about another 3 to 5 minutes.
Remove the pan from the heat. Set aside.
In an unoiled skillet, toast the mustard seeds over low heat. Once they become fragrant (it should take a minute or two), add in the maple syrup, apple cider and apple cider vinegar. Remove the pan from the heat. Set aside. (The sauce will not be thick.)
While both pans are off the heat, core and thinly slice both apples (don't peel). When finished, add the apples to the pan containing the cabbage and put it back on the medium heat.
Pour the skillet sauce onto the cabbage and stir while it warms through.
Once warm, salt to taste and serve warm. Serves 6 to 8.
Copyright 2018 The Lawrence Journal-World. All rights reserved. This material may not be published, broadcast, rewritten or redistributed. We strive to uphold our values for every story published.