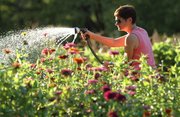 Glance inside the borders of a community garden, and you are likely to see green beans, squash, tomatoes and many other plants that are common in any Kansas garden.
The fruits and vegetables grown in the community garden are different from a home garden, though, simply because of that added component of community. Besides peppers and squash, the community garden is growing access to healthy food, creating an outlet for physical activity, providing education and creating a social network.
Search the benefits of community gardening and you will find a much greater list. That is part of the reason for recent support for community gardens through the national People's Garden Initiative and state Kansas Community Garden Grants project. The state project is a partnership between K-State Research and Extension and the Kansas Health Foundation to provide educational resources as well as funding.
On the local level, the city of Lawrence's Common Ground program provided land for the development of four new community gardens, making a total of 18 community gardens in and near Lawrence.
The Garden Incubator, located at John Taylor Park, 200 N. Seventh St., is one of those new Common Ground projects and was also the recipient of one of the Kansas Community Garden grants.
"I heard this quote last week," says Aimee Polson, one of the Garden Incubator's organizers. "It was something like: 'You can't protect anything you don't love.' It really fits into what we're trying to do here. It's the community-building — making people more anchored. I really like the idea of place-building."
Polson, who studied the benefits of community gardens while attending Kansas State University and has been involved in other community garden projects, says that she and Justina Gonzalez, the garden's other organizer, make a good team.
"Justina was really interested in the children's garden component, so we balance each other out," Polson explains.
The Garden Incubator includes 10 2-foot-by-2-foot plots that are just for the kids. Polson's son, Dexter Dillingham, tended one of the children's plots this year, where he chose to grow flowers instead of vegetables. Dillingham does not seem to have inherited his mother's love for gardening yet, but he does enjoy interacting with other children at the garden.
"It doesn't have to be all about food," Polson says. "The garden gets you out there. The kids make friends, and it's a place for parents and children to interact."
The University of Missouri says some research shows increased fruit and vegetable consumption amongst participants in community gardens, improved physical health, reduced stress, increased sense of well-being and belonging, and a reported sense of community identity and stewardship.
Community gardens also increase biodiversity, reduce stormwater runoff, provide a cooling effect and offer educational opportunities. In some cities, crime has been reduced in neighborhoods where community gardens have developed, and nearby properties have increased in value.
Eileen Horn, sustainability coordinator for the city of Lawrence-Douglas County, reports that the four new gardens founded through the Common Ground program have involved more than 400 area residents. In addition to producing fresh fruits and vegetables for the gardeners, about 270 pounds of produce from the gardens have been donated to Just Food and the Ballard Center.
The other Common Ground project gardens are located at 1313 Pa., 830 Garfield St. (Burroughs Creek Community Orchard) and 815 Oak St. (Student Farm). The Burroughs Creek Community Orchard is managed by the Lawrence Fruit Tree Project, and the Student Farm is a partnership between the Sustainable Agriculture program at Johnson County Community College and the Community Mercantile Education Foundation.
Kansas Community Garden Grants project awarded approximately $100,000 to 24 community garden projects in Kansas in 2012.
Copyright 2018 The Lawrence Journal-World. All rights reserved. This material may not be published, broadcast, rewritten or redistributed. We strive to uphold our values for every story published.