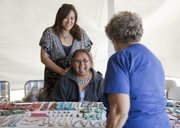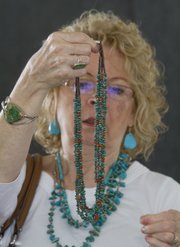 Art market
The Haskell Indian Art Market continues today starting at 10 a.m. at the Haskell Powwow Grounds on Haskell Indian Nations University's campus.
With rows of vendors and hundreds of visitors, it can be hard to stand out at a large craft fair like Haskell's. But Lita Atencio has been a vendor here for eight years, and she said there's a trick to get passersby to notice her wares: be friendly.
Atencio, who is Santo Domingo Pueblo (now called Kewa Pueblo), hand-crafts necklaces from many types of turquoise. She travels extensively to sell the pieces, and said that the Haskell Indian Art Market always gets a good crowd and has friendly people. With her elaborate jewelry displayed with care across a large table, she chatted with customers, proving her point. Her trick to beautiful beading, too, is to get input from lots of places — "each (turquoise) mine gives a different color, like each place and person has its own style," she said.
The annual event at Haskell Indian Nation University's outdoor powwow space continues today. This is the event's 24th year of artisan jewelry displays, tribal dance performances and a wide range of food vendors.
Stephen LaBoueff, who also goes by Black Bear, showed off clay pottery at the fair Saturday. He said he doesn't always travel with his work, but he likes to come to this art fair from his home in Kentucky because he attended Haskell and Kansas University.
He was hoping for good sales, he admitted, but his wood-fired pottery, made with natural materials and clay he digs himself, is important art — with the power to heal.
"Art is much more than commodity," he said. "I let it speak to me and then let it speak for itself."
Copyright 2018 The Lawrence Journal-World. All rights reserved. This material may not be published, broadcast, rewritten or redistributed. We strive to uphold our values for every story published.