Senior Andrew Harvey totaled 151 yards on just four carries and Veritas Christian School romped to a mercy-ruled victory against Burlingame, 54-8 in three quarters, on Friday at the Eagles' Nest.
Photo Gallery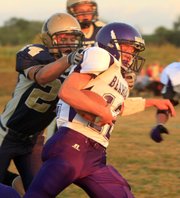 Veritas football vs. Burlingame
Andrew scored twice on the ground and once through the air, catching his lone touchdown on a pass from brother — and Eagles junior quarterback — Elijah Harvey. Andrew also added 10 solo tackles as the Eagles' defense allowed just one touchdown on the night.
Veritas' only other senior, Bryce Boland, closed out Burlingame (1-1) in the third quarter with a six-yard touchdown run and a 62-yard interception return that pushed the Eagles over the required 45-point differential and ended the game with 21 seconds left.
"Our guys played with great emotion tonight," Veritas coach Doug Bennett said. "Burlingame's a good quality team and I'm anxious to see how they do the rest of the season. They definitely have some talent; we just came in very fired up."
Boland had six solo tackles, eight assists, a fumble recovery and a sack to go along with his game-ending interception.
Veritas (2-0) plays host to Frankfort next Friday.
Copyright 2018 The Lawrence Journal-World. All rights reserved. This material may not be published, broadcast, rewritten or redistributed. We strive to uphold our values for every story published.