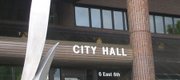 Subscribe to the email edition of Town Talk and we'll deliver you the latest city news and notes every weekday at noon.
News and notes from around town:
• Only my elastic waistband will be happy about this. For years, the all-you-can eat lunch buffet at Godfather's Pizza in West Lawrence has put a great strain on that strip of elastic. But no more.
There's a sign up notifying customers that Godfather's is "officially closed." I don't know the circumstances behind the closing of the restaurant, which was located in the shopping center at the southwest corner of Sixth and Wakarusa, just a few doors down from Johnny's West.
There is a sign on the door notifying locksmiths to not open the door to the restaurant, and a note notifying locksmiths to call what I believe is the property manager or landlord for more information. I'll let you make of that what you will.
I'm still trying to track down the local operator of that Godfather's. If I make contact and find out additional information, I'll let you know.
But it is a sad day in the Lawrence pizza industry. Godfather's was a longtime presence in the city. I've been in Lawrence 20 years, and I'm pretty certain they have been in town that long. Some of you may remember when they were in the Malls Shopping Center, where Wheat State Pizza currently is located.
It also seems that this continues a trend of a decline in all-you-can-eat pizza buffets in Lawrence. (Yeah, I don't know why the president didn't mention that as a problem in his speech last night either.) When Pizza Hut closed its downtown location, that ended the all-you-can-eat buffet there. Unless something has changed very recently, Minsky's — which took over the Pizza Hut spot — does not have a buffet.
I know Pyramid Pizza in downtown still offers an all-you-can-eat buffet, but I'm not certain how many others there are in town. I'm unclear on whether the newer style Pizza Huts offer the buffets, and also not sure on some of the smaller chains and local places, like Wheat State, Glory Days and such.
So, help a guy out. Let me know what you know about this vitally important topic.
UPDATE: I chatted with a source in the commercial real estate industry familiar with the situation at Godfather's. The store had been bought by a Gardner businessman in the last eight months or so. The new owner for whatever reason suddenly closed the business down earlier this month and notified the landlord — Lawrence businessman Greg DiVilbiss — that the restaurant wouldn't be reopening. At the moment, the landlord has possession of all the restaurant's equipment, so I believe there is work going on to try to either convince Godfather's to open a corporate store in the location or to convince another pizza operator to open up in the space.
One other thing I was reminded of when asking around about this is that the pizza market has changed significantly in that shopping center. Morningstar's Pizza has opened just around the corner from the Godfather's spot, serving New York style pizza, which also is served at nearby Johnny's.
• My elastic waistband is not entirely off the hook. Thankfully, it appears there already is some sort of caloric, cosmic balancing going on in the universe. (More evidence that Darwin and his Survival of the Fattest Theory is correct. That is the name of it, right?)
About the time Godfather's closed, Eileen's Colossal Cookies has reopened at Sixth and Wakarusa. The cookie shop at 4931 W. Sixth — kind of next to Famous Dave's BBQ — had been closed for a little over a month.
But the Nebraska-based cookie chain has found a new owner for the location. Becky Johansen, a business woman from Olathe, has purchased the store.
Candice Carpenter, the store's manager, told me the owners are confident the cookie concept will take off in West Lawrence. In addition to selling normal size cookies to folks who have perhaps eaten a little barbecue at Famous Dave's or Mexican at Salty Iguana or burgers at Johnny's (man, Darwin really would love this shopping center), the business also hopes to tap into the birthday and party market.
That's where the colossal cookies come in. The store sells 12-inch, 14-inch and 16-inch cookies.
"We feel like they are more convenient than a birthday cake because they're very quick to decorate," Carpenter said.
The business will operate with new hours of 8 a.m. to 5:30 p.m. Monday through Friday and 8 a.m. to 5 p.m. on Saturdays.
• Back when I was eating six pounds of pizza at the Godfather's buffet (don't worry, I also ate a salad), my doctor told me we likely were going to have to recycle my aortic valve at some point.
Well, I have no update on that recycling project, but I do have an update on the possibility of a citywide curbside recycling program.
As we have previously reported, an odd state law won't allow the city to start a citywide, curbside recycling program until 2014. But the city is not waiting until then to get the process started.
The city has been holding meetings with the existing private operators that offer curbside services in Lawrence. Those meetings are required by state law.
But on Tuesday, city commissioners will be asked to move into the next phase of the process. City staff members want to send out a request for proposals from companies interested in operating a citywide curbside recycling program.
If approved, the RFP could be sent out immediately, and the city could choose a vendor by the end of the year. But as I mentioned earlier, that doesn't mean curbside service will begin anytime soon. The relatively new state law — designed to protect private haulers from cities that start their own service — requires an 18-month waiting period from the time the city passes a curbside recycling ordinance to the time it can start the service.
City staff members are estimating that the earliest the city could start a new service would be June 11, 2014.
It is not yet a given that the city will start a service at all, however. The city certainly is interested in creating a curbside recycling service, but commissioners have said they'll have to see how much it will cost before they commit to the idea.
Currently there are about six private contractors that provide service in Lawrence. Residents interested in the service simply contract with whichever company they choose. What city commissioners are contemplating, however, is a system where every household in the city would be charged for curbside recycling services as part of their monthly city trash bill.
The city is considering hiring a private contractor to operate that service, but the city also hasn't ruled out running the service itself. The results of the RFP will go a long way in determining that.
The RFP results also will shed light on whether it is most feasible to operate a weekly curbside recycling service or a bi-weekly service. I believe commissioners are leaning toward a weekly service, but cost will be a factor.
One other interesting detail to keep an eye on is whether the city structures this RFP so only one company can win the bid or whether it is structured in such a way that the city can be broken into various sections and different providers allowed to bid for each section. Some city commissioners clearly have expressed a reluctance to put out of business the various small haulers that operate today. But from a pure business efficiency standpoint, it likely will be hard to justify anything other than a single hauler.
A couple of other points I noticed from the draft RFP include:
— The city is proposing the winner of the RFP be granted a 7-year contract with the possibility of two 3-year renewals.
— The city estimates that in 2010, the city had a 38 percent recycling rate. It has set a goal of having a 50 percent recycling rate by 2020.
— The private contractor, not the city, would be responsible for buying the recycling carts that would be delivered to households.
— The city expects the winning bidder to provide recycling services to the apartment complexes in the community. The city indicates the company will be required to provide recycling Dumpsters to apartment complexes.
Commissioners meet at 6:35 p.m. on Tuesday at City Hall to discuss the recycling issue.
Copyright 2018 The Lawrence Journal-World. All rights reserved. This material may not be published, broadcast, rewritten or redistributed. We strive to uphold our values for every story published.