News, et cetera, from schools in and around Douglas County: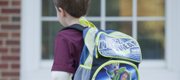 Subscribe to the email edition of First Bell and we'll deliver you the latest local education news and notes every weekday at noon.
• I've gotten some calls from concerned folks about this year's science fair and whether or not it will continue. Anne Wallace, who used to organize the annual science fair from the U.S.D. 497 district office, now works at Liberty Memorial Central Middle School. But I'm told that the events are still going forward, and a schedule is put together here. That says that the info night is Oct. 11.
I'll continue to check things out to see if I can find out more about who's organizing the fair.
• One thing I do know for sure: The school board will meet at 7 p.m. Monday.
One of the issues on the agenda is a boundary change for the neighborhoods north of Peterson Road and east of Kasold Drive, including the area east of Iowa Street. That's a Deerfield/Liberty Memorial Central area, but parts are closer to West Middle School. With the opening of Southwest, the West overcrowding issue is no more, meaning that many parents have transferred their kids to West, the closer school.
Here's the point of action in front of the board: "The administration recommends that the Board of Education consider a boundary change for Liberty Memorial Central and West Middle Schools effective for the 2013-2014 school year. The boundary change includes the neighborhoods north of Peterson Road and east of Kasold Drive, including the area east of Iowa Street and north of Interstate 70 extending to the Kansas River. The result of this change will be that all Deerfield Elementary students would attend West Middle School."
You can read more background about the proposal here.
• Gould Evans will also present some of its proposed fees relating to the upcoming bond issue at the Monday board meeting, so watch out for a story on that.
• Know anything that I need to learn? Send news tips, comments or questions to acgarrison@ljworld.com or call 832-6314.
Copyright 2018 The Lawrence Journal-World. All rights reserved. This material may not be published, broadcast, rewritten or redistributed. We strive to uphold our values for every story published.