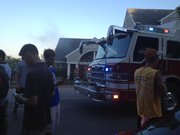 Firefighers were called Thursday evening to a kitchen fire at K.K. Amini Scholarship Hall, 1318 La.
Around 6:30 p.m., hall members were sitting down to dinner when they noticed smoke coming from behind the ovens.
"I had just gotten done cooking and had turned everything off," said hall member Danny Duclos. Duclos said the smoke quickly turned into a visible fire. "There were flames going up the wall," he said.
Hall members tried unsuccessfully to put out the fire, emptying a fire extinguisher on the flames, and called Lawrence-Douglas County Fire Medical.
KU Police Sgt. John Dietz said that by 7 p.m. the fire, likely a grease fire, was under control. He also said the stove was completely destroyed, but did not know at the time how severe the total damage was.
Hall members remained upbeat, and said they would be able to go back into the residence Thursday evening, once the damage was assessed and the smoke had cleared.
"We had some pretty fire-flamed honey baked chicken," joked sophomore Nathaniel Abeita.
According to the KU Department of Public Safety, the damage was estimated at $4,000.
Copyright 2017 The Lawrence Journal-World. All rights reserved. This material may not be published, broadcast, rewritten or redistributed. We strive to uphold our values for every story published.