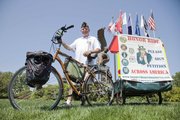 In the days following 9/11, tributes were common for military members, police, fire and emergency medical personnel across the country.
But now, 11 years later, Lance Robinson can tell you how the attitude has changed.
"There is a lot of apathy because the war on terror has drug on for so long," Robinson said. "There are still a lot of patriots and a lot of Americans who care, but there are some people who are really tired of hearing about it, too."
Robinson ought to know. Robinson has traveled to 25 states since September of 2010 to raise awareness for a new day of remembrance he hopes to establish: Brother to Brother Day.
"There have been various people who have tried to raise awareness or tried to raise money, but nobody actually has tried to create a day to honor all the people who serve us."
Robinson, who hails from Export, Pa., has been in Lawrence since last week to drum up attention for the Brother to Brother Day. He received a proclamation from the Lawrence City Commission on Tuesday, and recently rode his bicycle from Lawrence to the Capitol in Topeka to gain attention for the event.
Robinson will be hosting an event at 2 p.m. Monday at the Lawrence Visitors Center, 402 N. Second St., to briefly honor uniformed personnel.
Sept. 10 is the day Robinson hopes Congress eventually will declare as a national day of recognition for military, police, fire and medical emergency personnel.
Robinson said he's not looking for the day to become a national holiday. He said people shouldn't get the day off, but rather ought to go about their daily routines, with one exception.
"My goal is that when we see someone in uniform that day, we'll stop and give each other a handshake of honor," Robinson said.
Robinson began his quest by walking from his Pennsylvania home to the Tomb of the Unknown Soldier in Arlington National Cemetery in 2010. But the 54-year-old machinist, who served as a Marine in the 1970s, said he had a calling to do more.
"It started out as something I just wanted to do privately," Robinson said. "But I felt like the mission needed to continue."
Robinson proceeded to walk to 18 state capitals in the eastern United States. After taking a brief break, Robinson started back up in March, this time using a combination of a car and a bicycle to travel to state capitals.
He said traveling through some of the larger cities on foot or bicycle became too dangerous, so he began driving. But he said he generally stops quite a few miles away from a capital city and then rides the rest of the way on a bicycle.
Robinson — who said he has had his room and board in Lawrence donated by a local retirement center who learned of him through the American Legion — plans to leave Lawrence after the Sept. 10 ceremony. He hopes to travel to state capitals in Nebraska, the Dakotas, Minnesota, Michigan, Wisconsin, and Iowa.
Robinson said he plans to stop for the winter, and then visit the remaining states in the western United States next year. By then, he hopes, momentum will have built for Congress to officially declare Sept. 10 as Brother to Brother Day.
After that, he hopes to go back to Pennsylvania where he has a wife and a 13-year old daughter.
"When I'm totally done, I hope to go back to my life," Robinson said. "But not yet."
— City reporter Chad Lawhorn can be reached at 832-6362. Follow him at Twitter.com/clawhorn_ljw.
Copyright 2018 The Lawrence Journal-World. All rights reserved. This material may not be published, broadcast, rewritten or redistributed. We strive to uphold our values for every story published.