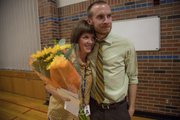 Second-year kindergarten teacher Lauren Mitchell got a surprise from her colleagues, students and family Thursday afternoon.
Her reaction, to everyone packed into the Kennedy School gym, was short and sweet: "Wow, I feel like I'm at the Academy Awards!" she said. "Thank you."
Mitchell was this year's Lawrence Horizon Award winner. It's a prize given to young teachers who show a lot of promise.
Lawrence public schools Superintendent Rick Doll presented the award, which came with $250 from KU Credit Union. Describing Mitchell, he said to the assembled elementary students: "She's extraordinary; that means something really special."
Mitchell graduated from Kansas University and has taught at Kennedy since last year.
"She inspires her fellow colleagues and goes the extra mile in sharing new and innovative teaching strategies," Kennedy Principal Cris Anderson said in the nomination for the award. Doll described her as a "natural" teacher.
The district will enter Mitchell into a statewide Horizon Award contest, to be determined later this year. She may have been surprised, but now she's ready.
"I like competition," she said.
— Reporter Alex Garrison can be reached at 832-6314.
Copyright 2018 The Lawrence Journal-World. All rights reserved. This material may not be published, broadcast, rewritten or redistributed. We strive to uphold our values for every story published.