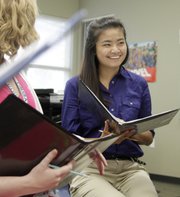 Chan Wang likes to talk.
In a sunny classroom at Bishop Seabury Academy, she's chatting with some friends, asking questions about their families — holding court with five other students from different countries, plus their teacher, Cris Bryan, who has had them each bring in favorite pop songs with English lyrics, for practice.
Chan, who sometimes goes by Coco, what she calls her fun American name, talks about learning Spanish from other friends she's made in her time between Spring Hill, Lawrence and her native China. She doesn't know how to write any of it, but, between laughter and questions about pronunciation, she says confidently, "'¿Cómo estás?' That's something I know!"
Bishop Seabury, a private sixth- through 12th-grade school, currently has nine international students. The school refers to them as "international" rather than "exchange" or "English as a second language" (though they're that, too) because Seabury's approach is a little different from that of most public schools. They hope to keep these nine students until they graduate. Rather than a relatively short-term engagement with local host families, Seabury's international students often stay with extended biological family in the U.S. in lieu of attending secondary school in their home countries. Many — if not most — also hope to go to university in the U.S. Gregarious, inquisitive and confident, Chan wants to go to Kansas University and study education.
Public school exchange students
The Lawrence public school district currently has seven foreign-exchange students: four at Lawrence High School and three at Free State High School. They'll stay with local host families for a year. These students are from Mexico, Italy and South Korea (one each), and four are from Germany.
Ibrahim Iskanadrani is a sophomore from Saudi Arabia also in Bryan's Friday afternoon ESL class. He lives with his older brother and sister in Lawrence, whom he came to visit in 2010. He said his father told him then that it was best for him to stay and learn English well before college, unlike his siblings, who struggled with it more at a later age. He likes American school, he said, because teachers are more patient — they "always explain wisely" — and there are more extracurricular activities.
Han "Gray" G, another Seabury ESL student from China ("G" is the closest transliteration of her first name), says that American school is also easier. There's not as much rote memorization and emphasis on testing all the time. Gray, who lives with her uncle, sat in Bryan's class with her math textbook close by, talking about how her schooling here is a lot less stressful than back home, so she feels it's easier to really learn.
But learning a new language — while simultaneously learning other subjects in a new language — isn't so easy. Gray and Chan emphatically agree that the best subjects at Seabury are math and art. "Is that because the language barrier isn't so hard?" Bryan asks.
Gray and Chan pause to wonder, with Ha "Ellie" Cho, who is from South Korea, also thinking it over. Yeah, they agree, probably.
Gray also agrees it can be hard not to want to speak in her native language with those around who know it, like Chan. And Ellie has her extended family in Lawrence to speak Korean with.
Ibrahim has another take, though; he says he gains English through TV shows, movies and just the strong desire to make American friends. Ellie says Seabury has become a family for her and that support has really helped her grow.
"It's hard in the beginning," Chan adds. "But you just practice to get more comfortable."
Copyright 2018 The Lawrence Journal-World. All rights reserved. This material may not be published, broadcast, rewritten or redistributed. We strive to uphold our values for every story published.