For the third time in four matches, redshirt junior middle blocker Caroline Jarmoc tied a career high, notching 16 kills to power Kansas University's volleyball team past UMKC, 25-15, 25-17, 25-17, on Tuesday night at Horejsi Center.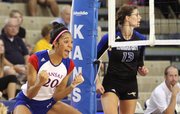 Jarmoc connected on 16 of her 27 attempts for a .556 hitting percentage and added five block assists and two solos.
"Our blocking set the tone in the first set," KU coach Ray Bechard said. "We blocked six balls, and I think that put them back on their heels a little bit. I thought they changed offensively what they were doing, so we added 59 digs on top of that. Defensively, we were good. Offensively, (Tayler) Tolefree and Jarmoc were good as was (Tiana) Dockery. I did like the way we jumped out early in each set, first to 15 and first to 20."
Dockery, a freshman outside hitter from Richmond, Texas, also had a career night in kills (13) and digs (seven). KU improved to 6-1 while UMKC fell to 5-4.
KU will host the Jayhawk Invitational on Friday and Saturday, with College of Charleston, Arizona State and Wyoming comprising the tourney field.
Copyright 2017 The Lawrence Journal-World. All rights reserved. This material may not be published, broadcast, rewritten or redistributed. We strive to uphold our values for every story published.