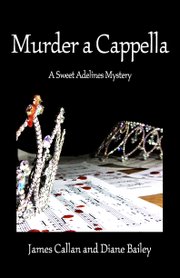 The Dead Sing No More.
It's the perfect beginning to the recently published "Murder a Cappella" (Wayside Press, 2012), co-written by local author Diane Bailey.
The book opens with a bang — or rather, two bangs: The deaths of two singers from an all-women's chorus during an international competition in San Antonio, Texas.
The protagonist is police officer Tina Overton. She is in the audience at the time of the shootings and volunteers her services to a friend on the police department.
As with any good mystery, the reader is treated to colorful characters, an intricate story line and a slew of possible suspects, each with his own motive for murder.
The book is a departure for Bailey, who has written more than two dozen children's books, most of which are nonfiction.
"Nonfiction is my bread and butter — or more like crusts and 'I Can't Believe It's Not Butter!'" she jokes.
The book is also different because she wrote it with her stepfather, James Callan of east Texas, who had wanted to write a mystery with her for years.
"We actually wrote a book in the early '90s," says Bailey, "but it didn't go anywhere."
The idea for writing another mystery together didn't go anywhere, either, as the two went about their lives. In addition to working on their individual writing, Callan kept busy with various writing groups, and Bailey kept busy by joining the real Sweet Adelines, an organization of all-women's a capella choruses and barbershop quartets.
"The initial idea (for 'Murder a Cappella') came about right after an international competition in which Diane's chorus took fifth," says Callan, who was in the audience in San Antonio.
Sound familiar?
"On the drive back to our home in Texas, Diane and I discussed the idea of the excitement and glitz of an international competition," he says.
"I'm always very careful to say that the Sweet Adelines are really nice people," says Bailey. "That murder part? It's made up!"
But the competition did "provide enough experiences to spark the original idea for 'Murder a Cappella,'" she says.
Although it took a few years before any writing started, once it did, it was truly a collaborative effort with Bailey providing "the color" and Callan writing a lot of the action sequences.
"Sometimes he would take one scene or chapter and I would take the next," says Bailey. "And sometimes we were both together, and I'd be sitting at the computer and he would be right next to me as we discussed what I was going to type."
"It's a complicated plot, and there was a lot of outlining and planning," she adds. "There were times when we had to work it out down to the hour so we could figure out when she learned what she did."
Both authors learned a great deal during their collaboration, about writing and otherwise. Bailey discovered that she enjoys both fiction and nonfiction writing.
"I still dig the whole finding out about a topic and researching it," she says, adding that fiction can be frustrating sometimes. "When I write nonfiction, I have a goal and I know what to do. I'm not sitting at the computer tearing my hair out because I don't know what comes next.
"On the other hand, with fiction there is no fact-checking, and I don't worry that I'm missing something. It's my world that I create."
Callan learned that writing collaboratively can be a dicey proposition. "I would caution anyone contemplating collaborating with a family member to think about it carefully. When two writers get together, there can be massive differences of opinion, and it could cause trouble," he says. "I would think about it carefully and decide if the relationship could stand a good shaking."
That said, Callan says that he and his daughter got along better than one could hope for. While they had a few artistic differences during the writing, they "worked them out without any difficulty," he says. "I think our relationship actually strengthened during the writing of 'Murder a Cappella.'"
Copyright 2018 The Lawrence Journal-World. All rights reserved. This material may not be published, broadcast, rewritten or redistributed. We strive to uphold our values for every story published.