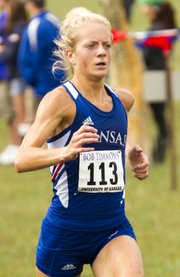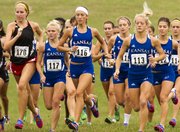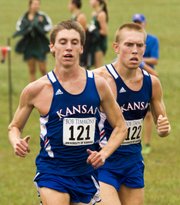 Former Free State High runner Kyra Kilwein opened her senior season at Kansas University with a victory Saturday at the soggy Bob Timmons Classic at Rim Rock Farm.
Kilwein, who won the same event for KU in 2010, finished the 5K race in 18:56.0 for the victorious Jayhawks, who totaled 94 points to Oral Roberts' 239. UMKC did not have a team score. The KU men, led by senior Josh Baden's 6K time of 19:49.0, also won with 91 points. UMKC had 188, Oral Roberts 472 and Highland Community College 535.
"It really helps. Rim Rock is my baby course. I have been running here since Free State," Kilwein said of running at home. "I have run this course many times. This (winning) really helps bring up my confidence. I think this KU team is going to have a really great year.
"Our team did a really good job the first mile-and-a-half working together," Kilwein added. "I think there were at least six or seven KU girls really close together, and that's what our coach wanted us to do — work together as a team."
Kilwein was followed by freshman Hannah Richardson, who placed second overall in 19:07.7. Sara Seiwald was third in 19:16.7, Hayley Francis fifth in 19:27.6, Liza Tauscher sixth in 19:40.2, Kathleen Thompson seventh in 19:48.2 and Tessa Turcotte eighth in 19:56.4.
"Really (runners), one through seven we are all right there," fourth-year KU assistant coach Michael Whittlesey said. "We can literally run as a pack of seven. The pack really isn't that far apart, and that's what we really need to focus on the next eight to 10 weeks, getting that pack closer and closer together up top."
Baden, a native of Colby, was followed closely by three Jayhawks who finished less than a second behind the winner. Reid Buchanan was second at 19:49.3, James Wilson third in 19:49.5 and Gabe Gonzalez fourth in 19:49.5. Kaman Schneider was sixth in 20:10.1, Javier Segura seventh in 20:17.0 and Colin Jokisch ninth in 20:44.6.
"It was really cool because we worked really well together as a team, and we ran as a pack of four together. I guess because I was the senior they let me go for it," Baden said of being the first to cross the finish line. "It's awesome having teammates that would do that for me."
As far as muddy conditions, he said: "The weather is beautiful. It's just the course is all sloppy. There were a few spots on the course where it was real muddy and made going down the hills a challenge. You had to watch your step quite a bit."
Noted Kilwein: "The rain may have affected the race with the times, but it really doesn't matter because we are here to compete, and we are going to get the job done."
Of the team's performance, KU head coach Stanley Redwine said: "It was a great job and a great effort today (by both teams). I thought most of them ran well in a pack together, and it was great that they finished the way they did. They have been working hard, and I'm glad that showed today."
Copyright 2018 The Lawrence Journal-World. All rights reserved. This material may not be published, broadcast, rewritten or redistributed. We strive to uphold our values for every story published.