Synthetic drugs
Photo Gallery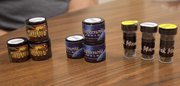 Synthetic drugs in Salina
About synthetic cannabinoids and bath salts
There are basically two broad types of substances involved in the recent growth of synthetic drugs. Health officials say there is no known antidote for someone suffering adverse reactions to the drugs. When patients are present in the emergency room, doctors treat the various symptoms, some of which can be life-threatening.
After the first wave of K2 calls to poison control centers in 2009, such calls have skyrocketed, according to numbers from the Drug Enforcement Agency, or DEA. In 2010, poison control centers across the country fielded 3,200 calls in reference to synthetic drugs. In 2011, that number exceeded 13,000.
Synthetic cannabinoids
• The first versions of these drugs, with brand names such as "Spice" and "K2," contained a synthetic derivative of cannabinoids, the mind-altering chemical in marijuana.
• The synthetic compound is sprayed on some form of plant material, like a potpourri, and then smoked as someone would smoke marijuana. The product comes in small packets and looks like marijuana.
• Public officials say these drugs started hitting retail shelves in fall 2009.
• Several chemicals used in the first wave of these drugs were outlawed in Kansas in 2010, and other classes of chemicals have subsequently been banned in the state and across the country.
• Manufacturers, however, have been altering the chemicals, trying to keep ahead of the law. Police say such chemicals are created overseas, then shipped to the United States and distributed from there.
• Health officials say newer versions of the drugs have cause increased heart rates, paranoia, addiction, kidney failure and bizarre behavior.
Bath salts
• First seen in stores in early 2010, the product is marketed as a bath salt, but is a powder that looks similar to cocaine. It's sold in packets as well as vials.
• Many forms of this drug, which is typically snorted, are a synthetic version of MDMA, or the street drug ecstasy.
• The chemicals found in this drug were banned in Kansas in 2011, but have continued to crop up in the state as manufacturers have altered the chemical properties. Police say these drugs are also created overseas, then shipped to the U.S. for distribution.
• The drugs are said to cause many of the effects seen in synthetic cannabinoids. But several high-profile cases of those reportedly using bath salts have included cannibalistic behaviors. Several heart attack deaths have also been attributed to bath salt usage.
SALINA — In decades of long-distance drives through the Midwest, Gary Conti, a retired Oklahoma State University professor, has avoided his share of potential accidents.
Like any driver with enough miles under his or her belt, Conti has had to swerve or stop to avoid a collision with a deer or another animal darting across the road.
But it never had been a person.
Not until about 10:45 p.m. Dec. 21, 2010.
Conti and his wife, who were headed back to their Tulsa-area home, stopped for gasoline at a truck stop off Interstate 135 in Salina. He steered their Toyota Sienna back on the highway, heading south.
Then a crouching figure flickered in Conti's peripheral vision at the edge of the dark highway.
"Out of nowhere, this young man popped up," said Conti, who instinctively, and unsuccessfully, swerved away from the man.
"It was like a magnet. He just kept running at us," Conti said. "It was like a horror movie."
The man, 21-year-old Kansas University student and Solomon native Elijah Taylor, hit the front bumper, then the window. Conti and his wife weren't injured, but Taylor died later at a Wichita hospital.
After finding packets of synthetic drugs in Taylor's possession, it didn't take police long to formulate a theory about why the young man lunged at a moving vehicle on an interstate highway.
"He was out-of-his-mind high," said Salina police Lt. Jim Norton, a member of the I-135/I-70 Drug Task Force.
That was nearly two years ago.
And such bizarre and erratic behavior has been a frequent sight in Salina, particularly in emergency rooms and during encounters with police, as various forms of synthetic, and sometimes legal, drugs have taken hold in the city, Norton said.
Salina isn't alone, and during the past three years an explosion of synthetic drugs has spread across the country, capturing the media spotlight and attention of law enforcement, health officials and lawmakers.
As local, state and federal law enforcement ramp up efforts to combat such substances, which they say are increasingly dangerous, they just might be embarking on the newest front in the drug war. The growing and unpredictable fight against synthetic drugs can call Kansas, and the northeast portion of the state, one of the first battlegrounds.
'K2'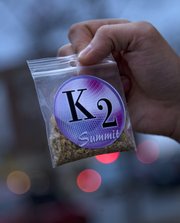 On any given day in fall 2009, lines at the Lawrence herbal shop, Sacred Journey, 1103 Mass., snaked out the store and around the block. Young and old waited to buy the increasingly popular herbal mixtures that went by brand names such as "K2" or "Spice." While the substances were marketed as herbal incense, few people were fooled; the product was a well-known and then-legal alternative to marijuana, containing synthetic versions of cannabinoids, or the mind-altering substances found in marijuana.
The product, which looks similar to actual marijuana, was cheaper and, for many, offered another key benefit: Use wouldn't show up on employment or probation drug tests.
But little was known about the effects of the substances, or even what the substances contained. That's what initially concerned Johnson County law enforcement, who saw a dramatic spike in use around the Kansas City-metro area. And it was all coming from Sacred Journey in Lawrence, said Jeremy Morris, a forensic scientist with the Johnson County Sheriff's Office.
"We hadn't seen it at all, and really there hadn't been any discussions about it being here stateside," said Morris, who was perhaps one of the first scientists to test the drugs found in stores.
The use of K2 became a big enough concern that Johnson County officials asked for help from state lawmakers, including Rep. Pat Colloton, R-Leawood.
"We were seeing some really weird stuff," said Colloton, chair of the Kansas House's Corrections and Juvenile Justice committee. At a 2010 hearing about possible legislation to ban the substances in the synthetic drugs, several members of Taylor's family testified.
"It was painful, tragic testimony," said Colloton, as the family detailed the unsuccessful fight to keep Taylor off the synthetic drugs. "It was powerful."
The Kansas Legislature passed a bill making Kansas the first state to ban several chemicals found in the synthetic drugs. That law went into effect July 1, 2010.
A few months before, in February 2010, local and federal law enforcement searched Sacred Journey, seizing K2 and other substances. They also arrested Sacred Journey's K2 distributor, 29-year-old Lawrence businessman Jonathan Sloan. Sloan operated, and continues to run, Bouncing Bear Botanicals, a speciality plant and herb business based in Oskaloosa, that distributes products nationwide.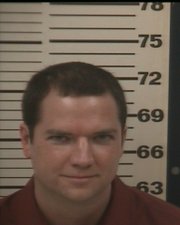 The Bouncing Bear warehouse was also searched. Sloan was charged in Jefferson County with multiple counts of possessing and distributing illegal drugs, but the charges against Sloan were later dropped. He was charged again in 2011, but those charges were also dropped.
Representatives from the U.S. Food and Drug Administration, which spearheaded the searches, have never explained the raid at Sacred Journey and declined comment for this article. A spokesman for the U.S. Attorney's Office in Kansas said the office was involved in obtaining the search and arrest warrants but declined further comment. Sloan has never been charged in federal court.
It's not clear whether Sloan, who also declined comment for this article, continued to sell synthetic drugs through his business. But after the search, such products were never again seen on the shelves of Sacred Journey, according to law enforcement. Lawrence police say synthetic drugs have not been a big issue locally since the 2010 raid.
Other manufacturers and distributors of the synthetic drugs in Kansas, however, were more aggressive in keeping the products available to users.
'Public enemy No. 1'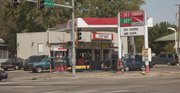 Following Taylor's death in 2010, Norton, the Salina police officer, said the "epidemic" of synthetic drug use reached a breaking point in his community.
"I have never, in my 25-year career, seen a drug that has put more people in the hospital like synthetic cannabinoids," he said.
Emergency room doctors at Salina Regional Hospital began telling him that overdoses of the synthetic drugs overtook methamphetamine as the most frequent drug cases at the hospital.
Kier Swisher, co-director of the hospital's emergency room, said there were times in the last couple of years when the emergency room would see up to a person a day who had overdosed on synthetic drugs. Some were treated and released; others spent days in the hospital as doctors treated a whole host of medical problems.
But the key challenge for Norton and other law officers was knowing whether the drugs they encountered were even illegal, as crafty drug makers stayed one step ahead of the curve, altering the chemicals in such drugs, skirting the new Kansas law.
"What started out as two chemicals quickly evolved into 30 chemicals," said Morris, the scientist.
Norton and his drug task force had been keeping a close eye on the problem, but Taylor's death pushed the issue to "public enemy No. 1," Norton said.
According to Norton, Taylor's friends who were with him the day he ran onto the highway said Taylor smoked synthetic drugs heavily all day. He'd been riding with some friends around Salina, but became so violent and out of control that friends forced him from their vehicle.
Driving around the center of town recently, Norton pulled up to a nondescript brick building near downtown Salina, and detailed how this building was one once the hub of a million-dollar drug manufacturing operation. And it was also most likely where the drugs Taylor smoked before his death were packaged.
Overseas shipments of the newest, legal synthetic compounds would arrive at the building, and once there, it'd be mixed, packaged and labeled with names such as "Supernova" and "Revelation."
While Sloan controlled the synthetic drug operation in Lawrence, the Salina operation was run by a 42-year-old Salina entrepreneur named Eric Srack, who also operated a local drug paraphernalia shop, the Grind, where Taylor bought the drugs he smoked before his death. Later on, the products would be distributed by a variety of independent gasoline stations and tobacco stores in Salina, and branched out to other communities such as El Dorado and Abilene, Norton said.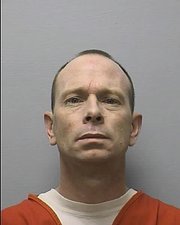 "It started as a legitimate business and ended as a criminal enterprise," said Norton about Srack's booming business.
And opposed to the underground dealings of drug dealers of the past, Srack's business was all out in the open. He even set up shop within view of the police station, the building adorned with psychedelic murals.
As soon as the Salina police became aware of K2, they bought the product and shipped it to labs for testing. Once some of the chemicals in substances like K2 were banned in 2010, police had the tools to apply for search and arrest warrants against businesses such as Srack's.
The day after Taylor died, a detective went to the Grind and purchased some packets of synthetic drugs, which later tested positive for one of the banned substances. Srack was arrested and later convicted of three felony counts of illegal drug distribution based on the detective's purchases. He'll be eligible for parole next year.
Norton said the void left by Srack's imprisonment was quickly filled by a Boise, Idaho, company named Zombie Matter.
The business was run by Boise resident Mark Ciccarello, according to the Idaho Secretary of State's office. Additional chemicals had been added to the banned Kansas list by 2011, but Zombie Matter was able to stay one step ahead, obtaining modified compounds from overseas, then distributing them to several Salina stores, where they've been sold on and off for the past year.
Zombie Matter has since been dissolved in Idaho after failing to renew annual paperwork. But Ciccarello, who did not return requests for comment, began a new company in Idaho in 2012. It's unclear whether the business distributes synthetic substances.
'Like Russian roulette'
Inside the poison control center at the Kansas University Hospital, Daling McMoran, a short, intense man with bulky muscles, gets pretty worked up talking about synthetic drugs.
"You're playing with fire here," he said. "I don't have to make this stuff up. It's like a horror movie."
For the past three years, McMoran, an educator with the poison control center, has been tasked with learning about synthetic drugs and then spreading the word about such substances to area schools and communities.
Using scientific drawings of the chemical components of the various drugs that have populated the market the past few years, McMoran explains that the chemicals are built off the basic foundations of methamphetamine, LSD, PCP and marijuana. Crafty chemists simply tweak a chemical here or there, and create a temporarily legal compound found in synthetic drugs.
His center began receiving calls from law enforcement about K2 in 2009. The bigger concerns came from emergency rooms encountering patients exhibiting a wide range of bizarre behaviors not seen before, even with methamphetamine use. Effects included increased heart rate, paranoia, agitation, hallucinations, seizures, aggressiveness and kidney failure.
Numerous media reports from across the country have highlighted other violent and bizarre behaviors, including several cannibalistic attacks involving people who had ingested bath salts, another type of synthetic drug that mimics the effects of the street drug ecstasy. Several others have reportedly died of heart attacks.
One big problem with the substances, whether they're bath salts or synthetic cannabinoids, is the lack of uniformity, McMoran said, a concern echoed by others interviewed by the Journal-World.
"They're never the same from location to location," he said.
Drug users have some general idea what to expect when they smoke marijuana or snort cocaine, but a lack of quality control in synthetic drugs leaves the effects up to chance.
"It's like Russian roulette," McMoran said.
And there isn't any guarantee that you're even taking what you think you're taking, Morris said. The chemical changes made since K2 hit the market in 2009 leave users with a widely unpredictable high.
"In many ways, no one knows what's in these products, even the vendors themselves," Morris said. "It really is a buyer beware."
Copyright 2018 The Lawrence Journal-World. All rights reserved. This material may not be published, broadcast, rewritten or redistributed. We strive to uphold our values for every story published.