Editor's note: We asked four Lawrence residents to share with us their experiences traveling abroad this summer.
•••
Kansans, Kenyans learn from each other
Three Kansas teams journeyed to Kenya in June, their luggage packed with medical supplies, irrigation tubing, soccer shirts and whatever the weight limit would allow. Whether they served on the Medical, Community or Steering teams, these Kansas to Kenya volunteers returned feeling that "K2K" meant "Kenya to Kansas."
Photo Gallery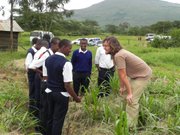 Kansas to Kenya 2012
Bob Basow went to Kenya this summer as part of the Kansas to Kenya program.
"What we brought back was much more than we took over," as one volunteer says.
Lawrence physician Steve Segebrecht founded K2K originally as a medical mission and has expanded it to include a community development team.
"We value and support 'community transforming community,'" Segebrecht says. A deacon at Trinity Episcopal Church, Segebrecht explains that "K2K works with the Diocese of Kansas and other organizations to achieve the United Nations' Millennium Development Goals in Kenya." These goals include: eliminating poverty and hunger; universal education; gender equality; child health; maternal health; disease prevention; sustainable agricultural/environmental development; and global partnership to achieve these goals.
How to help
To donate to Kansas to Kenya or find out more information about the program, visit www.kansas2kenya.com
Brian Segebrecht, of Lawrence, led the Microfinance group, which helped establish a program to raise women's economic status. "Microfinance involves helping small groups become credit-worthy so they can grow their businesses," Brian Segebrecht says. "We first visited successful groups in the Thika community. We returned to Maai Mahiu and observed a Masai women's group making beaded jewelry. Finally, we visited an IDP (internally displaced persons) camp and watched small groups weaving baskets and baking bread for sale."
Kathy Miller, of Lawrence, led the Literacy group, which helped introduce e-book readers to teachers and students at the Ngeya primary school in Maai Mahiu.
"The new Osborne Library at All Saints Church will provide 50 e-readers, through partnership with the Worldreader organization. Loaded with textbooks and regular books, these e-readers will help the school children, and their parents, make a leap into learning," Miller says.
Pam Paden, of Lawrence, distributed clothing to orphans at the primary and secondary schools.
"For these children, $75 covers the cost of a year's schooling, but education is a luxury. We'd like to help as many kids as we can to get through school," she says.
Jennifer Allen and Vicki Sharp, of Overland Park, on the Women's Health team distributed mosquito netting and counseled on family planning, nutrition and health care.
"After our meeting, an elder encouraged the women to utilize the information. It was a wonderful feeling to work in collaboration with the community," Allen says.
Quenton Cole, Kansas University engineering graduate from Kirkwood, Mo., worked with the Construction team to supervise home building for orphans and install rainwater harvesting and irrigation systems. Cole also advised on sanitation.
"Implementing basic sanitation can greatly improve community health by reducing the common causes of illness," he says.
Watch videos of the K2K teams' work in Kenya at www.kansas2kenya.com/video.
— Bob Basow
•••
A 'trip of a lifetime' to India
Rarely is a vacation a "must-do" excursion, but my family's trip to India definitely falls into that category. After all, we talked about it for 11 years, ever since my husband and I adopted our two daughters from India. They joined their 2-year-old brother, Charlie, in 2001 when Amla was 7 and Mary was 1.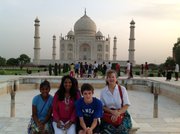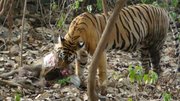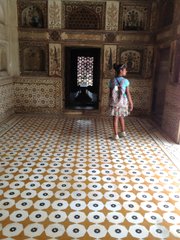 We chose the summer of 2012 to go. Amla would graduate from high school, and the younger two would be 12 and 13, perfect ages for such an adventure — old enough to remember it, and young enough for it to affect their understanding of the world.
We hung onto our dream despite my husband's death in 2002, and although some were skeptical about my ability to pull off such a trip, I didn't think too much about it... UNTIL we were on the plane: Lost luggage, roaming charges, gastrointestinal distress, monkeys stealing my sunglasses — isn't it always the things you don't worry about?
As we left the Delhi airport, Charlie said it was so hot that his "eyes hurt."
It was hot. And colorful. And buzzing with life. And what better introduction to the culture than a rickshaw through Old Delhi's spice market? You would expect exotic aromas, and there were plenty of those, but there were also smells typical of an area teeming with people and animals. It was sensory overload as we brushed past pedestrians along the twisted, narrow streets.
Next stop: Agra. What do you say about the Taj Mahal? It is breathtaking. Shah Jahan set out to build a structure for the ages, and did he ever. Symmetry is one of the features that makes the mausoleum so appealing. Everything is balanced right down the emperor's beloved Mumtaz, who lies perfectly positioned under the dome. The only thing out of whack is Shah Jahan himself, who lies next to her, just off center. I loved the irony.
Rajasthan was next, the part of the trip I was most anxious about. Who wouldn't be with "tents" and "safaris" on the itinerary?
I shouldn't have worried, for these were no ordinary tents, and it was no ordinary hotel. We still smile, thinking back to the employees who bowed as they greeted us with "Namaste Family Carr." They met us with rose-scented towels, made us special dinners, offered to clean our eyeglasses, and even spelled out "good night" in flower petals!
We also loved the safaris in Ranthambore National Park, a gorgeous area surrounding a massive, 10th century fort. The park has monkeys, deer, leopards, bears and 350 species of birds, but its most famous inhabitants are Bengal tigers.
The literature said tiger sightings were rare. Call it karma, but we actually saw three of the magnificent cats: a male and female lounging by a watering hole, and a tiger as she ate a deer 30 feet from us. While it felt like we were watching a nature video, the carcass smell and the buzzing flies told us our front-row seat was real.
After three days in Goa, we were off to Mumbai and the orphanage. I can't speak for my daughters and their feelings about returning to a world so different from Kansas. I imagine their perceptions will evolve as they grow, but I accomplished what I set out to do, which was to take my three favorite people back to my daughters' birth country.
We relied on one another during the trip, and grew closer as a result. We had experiences we'll remember forever: Amla doing yoga in the Elephanta Caves; Charlie playing soccer on the shore of the Arabian Sea; and Mary making friends with every monkey and dog she encountered. (Note to self: Add rabies to the next worry list.)
This "must-do" vacation truly was the trip of a lifetime.
— Margie Carr
•••
Pageant winner connects with Slovakian roots
Spending time with family always makes one feel at home. Experiencing that same warm feeling with family you have never met before, family who does not speak your language, family in a foreign country — that is a moment to reflect on.

In summer of 2011, I had the honor of representing myself and my family as a second-generation descendent from what is now Slovakia in the Miss Czech-Slovak Kansas Pageant. After being chosen as the Kansas Czech-Slovak queen in 2011, I began preparing for competition in the 2012 Miss Czech-Slovak US Pageant this summer.

Photo Gallery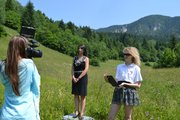 Jennifer Salva in Slovakia
Jenniver Salva won the 2012 Miss Czech-Slovak US Pageant and visited Slovakia this summer.
The Kansas pageant director was eager to send me off to the Czech Republic or Slovakia as part of my preparation for national competition, and found the perfect event for my itinerary.
The 26th World Congress of the The Czechoslovak Society of Arts and Sciences held its 26th World Congress in Zilina, Slovakia, the first week in July, where I was invited to create a presentation on the Czech and Slovak influence in the American Midwest.
In addition to giving my presentation, I had the unique opportunity to meet doctors, professors and unique individuals from over 40 countries. The most meaningful individual I met was a well-known Slovak filmmaker named Ivo Brachtl.
As a student of journalism and film, I jumped at the opportunity to introduce myself to the notable documentary maker, and hopefully earn a handshake. Instead, Ivo decided he would give me the opportunity of a lifetime.
As I dropped to one knee to take a photo of a group of professors at the conference, Ivo whispered "get little lower, close iris more." His desire to teach was invigorating.
Ivo invited me to travel to the mountains, an hour outside of Zilina, to film a talking head for a documentary he was making. I thought I would remember filming in the mountains of Slovakia as just a dream, but it's a dream that I get to revisit during my weekly chats with Ivo per his request of keeping in touch.
Next, I traveled to Hrustin, Slovakia, the birthplace of my grandmother, to meet my cousins for the very first time.
The Slovak people have a unique way of making you feel right at home. It could be the food, it could be the warm hello kisses, or it could be the shots of slivovitz.
I was able to communicate with only two of my younger cousins in English. But that didn't matter — we were family. And as long as we yelled loudly enough, we would understand each other eventually.
We gathered each evening in a different household in the small village of Hrustin to eat, drink and sing. The infectious love and generous spirit of my Slovak family members were demonstrated through the hard work to prepare delicious meals each night.

Beautiful, yet humble, Slovak homes, filled with family and laughter, were the perfect place to spend my summer before returning to the United States to compete in the Miss Czech-Slovak US Pageant.
Undoubtedly, my time in Slovakia contributed to the honor of being chosen as the US Czech-Slovak queen this August. I am proud to represent the Czech and Slovak heritages throughout the nation this year, as well as return to my family in Slovakia next summer.
— Jennifer Salva
•••
Touring Turkey and sharing faith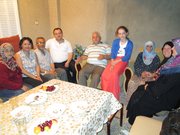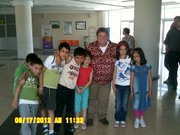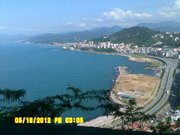 Editor's note: The Rev. Shannah McAleer, of Unity Church of Lawrence, traveled to Turkey this June as part of a 10-member delegation from Kansas. The trip was with the Institute of Interfaith Dialogue, an international organization based in Istanbul with chapters around the world, including one at Kansas University.
We traveled throughout Turkey, meeting the heads of various aspects of the culture, such as members of the Turkish Parliament, large businesses, universities, private schools, print and television media, hospitals, social services and members of the faith community.
We shared meals with and stayed with Turkish families that helped us to be part of the beauty of their daily lives. I learned a great deal from my host families in Samsun where Ishmael and his extended family share a seaside compound that was gorgeous.
In Manisa I stayed with a young, modern couple who own a large insurance company. Their son Mihten was just like any fun little boy of 6. I loved watching the loving interactions between parents and children and how active the fathers are in their care.
We traveled to the major metropolitan city of Istanbul on the shining Bosporus Sea. Istanbul is the only city in the world that straddles both Europe and Asia. It is filled with excitement and a blend of the modern and ancient worlds. We went to Topkapi Palace, Hagia Sophia Mosque, the ancient Spice Bazaar, and many more incredible experiences.
Then we were off on a flight to Ankara, the capital of Turkey. This is the hub of government. We were welcomed and honored by some of the members of Parliament who took us to an outdoor restaurant in the midst of beautiful gardens to eat. We made our way through the seaside communities of Samsung and Trabzon, and even high into the mountain ranges to visit Long Lake and an ancient Christian monastery carved into a solid granite mountain. To say Turkey is a beautiful country is a huge understatement. Their rich culture is beyond compare.
We were hosted by business people who support the work of spiritual and social leader Fethullah Güllen. The Güllen movement began in Turkey and is now well-represented throughout the world as a center of intercultural and interfaith dialogue and understanding.
Individual chapters are often linked with universities in the United States, such as in Houston and our local chapter at Kansas University. The chapters offer opportunities to share Turkish culture, language and faith-related events.
I loved the trip, and one of my favorite aspects was the opportunity to meet with and stay with host families in different cities.
One of the greatest aspects of the Turkish culture and people is their amazing demonstration of hospitality. I always felt welcomed as if I were immediately part of their families. I feel I have made life-long friends.
I am happy that we have a KU chapter of the IID so that I can participate in local events. Turkey is an absolutely beautiful country with miles of seashore and huge mountain ranges. I had lived in Turkey for two years when I was younger, and it is even more beautiful today than before. I highly recommend looking for IID events and attending them to increase our understanding of the Abrahamic faiths: Christianity, Judaism and Islam.
I believe it was Gandhi who once said, "There will not be peace on earth until there is faith among the world religions"! The IID strives to help create that peace!
— The Rev. Shannah McAleer
Copyright 2018 The Lawrence Journal-World. All rights reserved. This material may not be published, broadcast, rewritten or redistributed. We strive to uphold our values for every story published.