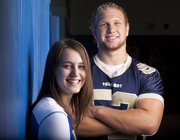 Veritas Christian School's fall sports programs — even football — will be getting used to some new faces this season.
Few Kansas Christian Athletic Association football teams have been as good as Veritas the past two years. The 2010 KCAA state champs rode a 20-game winning streak into last year's title game before finishing as runner-up to St. Mary's Academy.
Still, coach Doug Bennett knows this season will challenge his program. While the ninth-year coach likes his core of returning players — seniors Bryce Boland, and Andrew Harvey, juniors Elijah Harvey, Alex Lynch and Thatcher Martin, and sophomore Caleb Holland — he is concerned about the team's depth. The coach expects freshman Chad Stieben to help Veritas immediately, but the roster includes just 13 players. That's about eight fewer players than Bennett worked with the previous two seasons.
"It's a real challenge at practice, makes it tough to scrimmage," he said.
What's more, seven of the Eagles are freshmen. So health and versatility will be crucial.
"Even the guys who are returning are playing in new spots," Bennett said.
The Veritas football season starts at 7 tonight, when the Eagles play host to Steelville, Mo.
Volleyball
The Veritas volleyball team will have a slightly different look this year, with Mike Bartlow on the sideline for his first season as head coach, but he'll have plenty of experienced players to help him.
The Eagles went 25-8 last year and took fifth place at the KCAA state tournament. Six varsity letter-winners return from that team: seniors Abi Bartlow, Madi Bennett, Ali Dover and Kristen Finger, junior Teri Huslig and sophomore Lacey Billings.
All, Coach Bartlow added, contributed to the program's 2010 KCAA state championship (Billings played on the team as an eighth-grader).
A trio of freshmen — Rebekah Andersson, Allie Swisher and Mikenzie Crocker — also are expected to be in the rotation.
"Through summer workouts, camp and initial practices," Mike Bartlow said, "these nine ladies have shown great chemistry on the court, pushing one another to improve and encouraging each other."
The Eagles' season begins Tuesday, when they play at Marais Des Cygnes Valley's triangular, in Melvern.
Copyright 2018 The Lawrence Journal-World. All rights reserved. This material may not be published, broadcast, rewritten or redistributed. We strive to uphold our values for every story published.