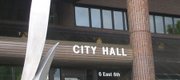 Subscribe to the email edition of Town Talk and we'll deliver you the latest city news and notes every weekday at noon.
News and notes from around town:
• Happy Halloween. I'm sure there are neighborhoods throughout this city where sugar is flowing down the streets like rainwater. Based on the energy level of my kids this morning, I guess mine falls into that category. (I was told after the fact that candy corn for breakfast is not acceptable. I thought we were trying to get our kids to eat more vegetables.)
Maybe by this time next year, there will be a brand new Lawrence neighborhood where the kids can trick-or-treat. And perhaps not coincidentally, it may be pretty near the proposed city/Kansas University sports complex in northwest Lawrence.
Plans have been filed at City Hall to create the Langston Heights neighborhood just southwest of George Williams Way and Sixth Street. The property — which runs along the South Lawrence Trafficway and stretches down to a point just north and west of Langston Hughes Elementary — would be a mix of single-family homes, duplexes and apartments.
The plans call for 29 lots of single-family homes on about 9 acres of property, about 50 duplexes — 100 living units since each duplex has two — on about 8.5 acres, and 86 apartment units on about 9.8 acres.
The project will need to win zoning approval at both the Planning Commission and City Commission levels before it can proceed. I mentioned how this site is near the proposed recreation center/sports complex, but probably the bigger driver for this project is the fact that a new interchange at Bob Billings Parkway and the South Lawrence Trafficway is going to become reality. Plus the completion of the eastern leg of the trafficway will help too.
It will be interesting to watch how much new development that interchange — which likely will be completed by November 2015 — will spur. Particularly interesting is what type of commercial development will happen in the area. Long-range plans approved at City Hall show the area just north and east of the new interchange eventually housing a neighborhood commercial type of development, so think a bank, coffee shop, liquor store, bulk candy corn superstore and that sort of thing. (Sorry. For some reason I can't get candy corn off my mind today. I also can't get my hands to stop shaking.)
New development in the area, though, will be tempered by one fact: Lawrence still has a ton of empty building lots. At the end of 2011, a City Hall report estimated that there were 1,746 lots in the city that have been platted but not built upon. The majority of them — about 1,200 — are what you would consider shovel-ready. That means all the infrastructure is in place for a house or apartment to be built on the lot.
Based on current housing trends, the city estimated the inventory of vacant lots is large enough to last for a little more than 18 years. Even if housing activity returns to the type of robust trend seen a decade ago, the number of empty lots would last for about nine years.
But none of those numbers is likely to stop developers from adding new lots if they feel they have a real winner of a location. Being next to a road — the SLT — that can cut commute times to both Topeka and Kansas City, likely will attract new residential development.
From the information filed at City Hall, it looks like the folks at Alvamar Inc. and Lawrence builder Bob Santee are behind this most recent development request.
• Not all new development in northwest Lawrence is residential in nature. Some of it is waistline in nature.
I'm talking about a new clothing alteration shop that has opened at the northeast corner of Sixth and Wakarusa. Alterations by Sarah has opened at 4801 Bauer Farm Drive, right next to Orange Leaf Frozen Yogurt. (An alteration shop next to a dessert business: Is that what we call synergy?)
The company is run by the same folks who operate six Alterations by Sarah in Wichita. The company does everything from fixing zippers to modifying wedding dresses. Sam Arif, who is a son of the founders of the Wichita chain, said the northwest part of Lawrence seems to be picking up momentum again when it comes to housing and apartment development. That potential residential growth led him to look at opening the store at Sixth and Wakarusa.
He said the alteration business has fared OK during the economic downturn, in part, because it can help people be more frugal.
"One of the biggest things about alterations is we can help customers get all their clothes to fit better, which is significantly less expensive than buying new clothes," Arif said. "That's a point that we try to get across to people in these times."
The store is open 9 a.m. to 6 p.m. Monday through Friday and 9 a.m. to 5 p.m. on Saturday. The alteration shop also has created a partnership with Hygienic Dry Cleaners to serve as a drop off and pick up location for the dry cleaning company.
• One thing that has been known to alter my waistline over the years is slices of breakfast pizza from Casey's General Store. (What? I suppose that's not a healthy breakfast either? It is a dairy-rich product.)
Lawrence doesn't have a Casey's store, but I hear that could change in the future. This is all unconfirmed, so take it for whatever you think it is worth, but I have heard that representatives from Casey's have been looking at sites in Lawrence, particularly in northwest Lawrence.
I don't have any specifics on a location, and from what I've heard, a deal is not yet imminent. But believe it or not, I do occasionally get asked questions by readers about whether a Casey's is ever going to locate in Lawrence. So, I thought I would pass along the rumor.
If a Casey's does locate in Lawrence, it may have implications beyond breakfast pizza. I have no proof of this, but I think Casey's is pretty aggressive when it comes to pricing gasoline. In other words, they'll lower some prices to try to get business, and then other retailers end up having to match them. I say this because I reported several times over the last year how gasoline prices in Eudora were significantly cheaper than in Lawrence, just six miles down Kansas Highway 10. On some days, it was 10 cents to 12 cents cheaper per gallon. One difference between Lawrence and Eudora's gasoline markets is that Eudora has a Casey's store, and it seems the Eudora Kwik Shop always will match that price.
But who knows if that is really the case? It may just be the breakfast pizza talking.
Copyright 2018 The Lawrence Journal-World. All rights reserved. This material may not be published, broadcast, rewritten or redistributed. We strive to uphold our values for every story published.