Veritas Christian School is headed back to the KCAA football championship after its latest blowout victory, a 54-6 two-quarter rout of Topeka Cair Paravel on Tuesday at the Eagles' Nest.
St. Mary's Academy will host Veritas at 2 p.m. on Saturday in the third straight championship match-up between the teams. The Eagles lost to the Crusaders last season after prevailing for the KCAA championship in 2010. St. Mary's defeated Veritas (8-2) earlier this month, 66-48 on Oct. 19.
Photo Gallery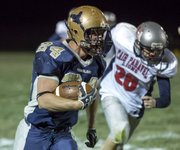 Veritas Football vs. Cair Paravel
Against Cair Paravel on Tuesday, the Veritas defense helped engineer the Eagles' fourth mercy-ruled win of the season.
Veritas led 34-6 at the end of the first quarter after Alex Lynch and Thatcher Martin returned interceptions for touchdowns and Caleb Holland returned a kickoff following Cair Paravel's only scoring drive.
"Defensively, we played extremely well," Veritas coach Doug Bennett said. "I'm also the offensive coordinator, and for a while I was wondering if I'd be able to call any offensive plays. ... Our defense played really well."
Along with his interception return, Martin forced two fumbles. Bryce Bolland added two more forced fumbles and two fumble recoveries. He finished the game with nine total tackles, including a sack and two tackles for loss.
Copyright 2018 The Lawrence Journal-World. All rights reserved. This material may not be published, broadcast, rewritten or redistributed. We strive to uphold our values for every story published.