Kathleen Morgan, executive director of the Lawrence Public Library Foundation, has originated a verb you won't find in the dictionary or any of the other tomes stacked on the Lawrence Public Library's long shelves.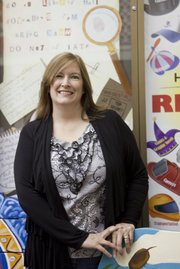 "To 'Jean Ann' is to work on a job until it's perfect," Morgan said, laughing, as she referred to the laudable work done by venerated foundation volunteer Jean Ann Oden. "She has the most incredible work ethic, and we are the happy beneficiaries."
When Oden and her family moved to Lawrence from Minnesota in 2004, she didn't know a soul in her new community. So she decided to find a place where she could volunteer in order to connect with Lawrence residents, make friends and further develop her professional skills in administration and graphic design.
"I had experience working with children and had office skills, so I started thinking of who that would benefit the most. I thought of the library," Oden said.
Oden now provides graphic design services for the library, helps with special events, maintains the foundation's database and is willing to do just about anything else that needs doing, whether it's hauling boxes of children's books to her home so she can paste in "Dr. Bob Book" bookplates or hiking around downtown to distribute promotional fliers for upcoming library events.
By serving as an unpaid, unofficial staff person for the library, Oden benefits the entire community, Morgan said. That's why Morgan nominated Oden for the United Way Roger Hill Volunteer Center Wallace Galluzzi Outstanding Volunteer Award.
"We are a tax-based entity, and she saves us thousands of dollars a year," Morgan explained. "I'm a staff of one. We have to rely on volunteer help. I could not function without her — she's that valuable."
Oden said she steadfastly believes that working as a volunteer for the library benefits her as much as it benefits the community.
"It has made me more self-confident, helped me make new friends and improved my professional development," she said. "The people are very friendly and make you feel like a co-worker. That has increased how much I volunteer."
Despite working and raising four children and two stepchildren, Oden has always carved out time to volunteer.
"It's in my nature," she said. "There are always things that need to be done and people who need to be helped. When someone needs me, I want to be there for them. It's in my bones; it's an instinct."
Oden has not only made a big impression on the staff at the library by her level of commitment to volunteering, she's made one on her family, as well. Her children are following in her footsteps, volunteering with organizations such as Habitat for Humanity, the Lawrence Humane Society and the library.
"You hope your children learn from your example, that they can work and also volunteer," Oden said. "Volunteering is another thing that gives you a healthy balance to life."
Copyright 2018 The Lawrence Journal-World. All rights reserved. This material may not be published, broadcast, rewritten or redistributed. We strive to uphold our values for every story published.