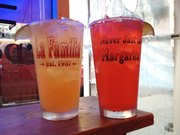 With this feature kicking off the week of Halloween, we picked a drink with a scary-sounding name. In reality, it's one of the least scary drinks around (though an argument could be made that the potent ingredient — or the choices made after drinking too much of it — is notorious for coming back to haunt people).
There are no spiders in the Tarantula Margarita; rather, it's a sweet tequila and fruit liqueur mix with the brand name Tarantula.
La Familia serves these in strawberry, peach or mango, with your choice of sugar or salt on the rim.
The hard stuff: Tequila
Where it's served: La Familia Cafe and Cantina, 733 New Hampshire
What it costs: $5.25
When it's on special: Thursdays. You can get a smaller pour for 99 cents.
Other libations at this location: Mostly margaritas — house, house by the pitcher, frozen, Blue Moon (it's blue) and Perfect (fancier liquor, fancier price).
Copyright 2018 The Lawrence Journal-World. All rights reserved. This material may not be published, broadcast, rewritten or redistributed. We strive to uphold our values for every story published.