The race for the 54th Kansas House District pits what could be termed a 40 percent incumbent against a Shawnee County businessman.
Democrat Ann Mah of the Shawnee Heights area southeast of Topeka is seeking re-election to the seat she's held for four terms. But it is a much different district from the one she has represented, with only 40 percent of her former constituents now in the district. In June, a three-judge federal panel charged with redrawing Kansas legislative maps removed its Topeka precincts, added the northern half of Osage County and extended the district to the south and east into Douglas County.
The district now extends across U.S. Highway 59 but does not include Baldwin City.
Mah's challenger is Ken Corbet, who won a three-way race for the Republican nomination in August. The owner of Ravenwood Lodge, a sportsmen's retreat and bed and breakfast near Dover, Corbet said he understood the difficulties high taxes can cause small businesses. He supports the income tax cuts passed in the last legislative session — which reduced tax rates, increased standard deductions and exempted from taxation nonwage income from some businesses — and would like to see more.
"I think any place you can cut taxes is good for Kansas," he said. "My goal is to make Kansas the No. 1 tax-friendly state in the country. Companies are going to states that are tax-friendly like Texas or Tennessee. Kansas has to grow to survive."
Supply-side tax cuts, such as those approved last spring over her "no" vote, don't stimulate the economy, Mah said.
"Moody's Investment Service said last summer they won't produce growth," she said. "They kind of know what they are talking about.
"That (the tax cuts) was irresponsible, and the governor knew it. He told the Republican caucus they would have to fix it next session."
Good infrastructure, quality schools and a trained employee pool attract business, Mah said, citing the example of Mars Chocolate North America's planned move to Topeka.
Making the tax cuts worse were the elimination of rebates available to low-income Kansans for food sales tax, renters and child care, Mah said.
"That's $2 million more in taxes low-income people in Douglas County will have to pay," she said. "Yeah, I voted against it."
The added burden the tax cuts place on low-income Kansans makes her an adamant opponent of extending the temporary half-cent sales tax that is set to expire July 1, 2013. Gov. Sam Brownback has said he might consider extending the tax should Kansas revenues fall too steeply in the first years of the income tax cuts.
Mah said she voted for that sunset date when she voted to approve the half-cent sales tax in 2010.
"I've already voted to end it," she said. "I would honor that commitment. They would have to pass a tax increase to extend it."
Corbet said the state had a high sales tax rate and he would like to avoid any increase.
Both candidates said as they campaign door-to-door, property taxes were a prime concern.
Mah said voters understood the income tax cuts could compel local districts to increase property taxes as state funding decreased.
"Income tax provides nearly half the general fund," she said. "We cut off one of our legs."
School districts need to ensure money is being spent in the classrooms, and learn to live within their means, Corbet said.
"I know in my business there are lots of things I'd like to have, but I look at the bottom line and the money's not there," he said. "I'm hoping we get people in who think of that money as their own and spend a little less."
Corbet, who has the endorsement of the National Rifle Association and said he was pro-life.
"That is an important thing with me," he said. "If we are going to err, we need to err for life."
Mah said she was pro-choice.
"Abortion should be legal but rarely used," she said.
Candidate profiles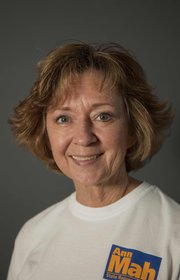 Ann Mah-D
Age: 61
Married: Husband, Larry
Children: One
Occupation: Retired Southwestern Bell area manager
Religion: Lutheran
Education: Bachelor and Master of Education from Emporia State University
Experience: Four terms in the Kansas House representing the 54th District, past president of the Corporate Volunteer Council of Topeka, Chairman of the Visions of the 21st Century Women's Conference, Kansas Department of Education QPA Advisory Council, Shawnee County Chairman of Kids Voting Kansas, Teacher of the Year State Steering Committee, and member of the Kansas Advisory Committee on Technical Education
Quote: "Moody's Investment Service said last summer they won't produce growth. They kind of know what they are talking about," on the income tax cuts passed in the 2012 legislative session.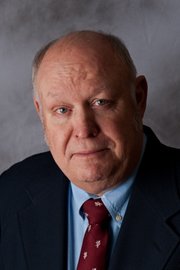 Ken Corbet-R
Age: 64
Married: Wife, Bev
Children: Two
Occupation: Owner of Ravenwood Lodge
Religion: Lutheran
Education: Attended Baker University and Washburn University
Experience: Member of Governor's Council on Tourism and on Dean's Advisory Council of Kansas State University School of Agriculture, founder and president of Kansas Sport Hunting Association
Quote: "My goal is to make Kansas the No. 1 tax friendly state in the country."
Copyright 2018 The Lawrence Journal-World. All rights reserved. This material may not be published, broadcast, rewritten or redistributed. We strive to uphold our values for every story published.