About 10 years ago, the day came when Lawrence resident Laura Ramburg's children were too old to continue to go trick-or-treating on Halloween. As a fan of the holiday, Ramburg wanted to continue to celebrate the special time of year but wasn't sure how. She began to dig deeper into its meaning, and instead of continuing her Halloween traditions, she started participating in a different holiday.
She began celebrating Día de los Muertos and ended up finding more meaning and joy in this celebration than dressing up her children and taking them out to get candy. She made an altar honoring the lives of her deceased father and grandparents and decorated the space with flowers and artwork.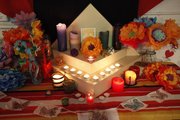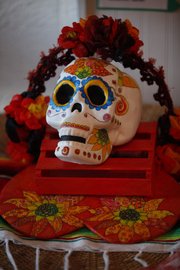 Día de los Muertos
Día de los Muertos, also known as Day of the Dead, originated from the indigenous cultures of Mexico and is a public celebration in Mexico and communities of Mexican origin to honor and remember friends and family members who have died.
Día de los Muertos events
Día de los Muertos events
in Lawrence
• Now through Dec. 21, Watkins Community Museum of History, 1047 Massachusetts
La Calavera Catrina: Women's Imagery and Day of the Dead
• 5 p.m. to 9 p.m. Friday, Lawrence Percolator, Ninth and New Hampshire streets in the alley behind the Lawrence Arts Center
Day of the Dead celebration potluck with food, artwork and a band.
Día de los Muertos events
in the surrounding area
• 7 p.m. Thursday, Washburn University, Topeka
Guest lecturer Denis Defibaugh will lecture on his 10 years of photographing Día de los Muertos celebrations in Oaxaca, Mexico.
• 6 p.m. to 10 p.m. Friday, Mattie Rhodes Center, Kansas City, Mo.
Listen to live music and watch the Kansas City Art Institute parade through the Westside Neighborhood in costumes.
• 10 a.m. to 5 p.m. Friday and Saturday, Kansas Children's Discovery Center, Topeka
The Children's Discovery Center final Día de los Muertos celebration will include sugar skull decorating workshops as well as Mexican hot chocolate, mini pan de muerto, community ofrenda, face painting and mask making.
• 1 p.m. to 4 p.m. Sunday, Nelson-Atkins Museum of Art, Kansas City, Mo.
The Nelson-Atkins Museum's Day of the Dead Family Festival will feature mariachi music, artist demonstrations and a grand procession of Kansas City Art Institute students. An altar installation honoring author Carlos Fuentes and singer Chavela Vargas created by artist Betsabeé Romero and local artists is on display now through Sunday.
The Mexican holiday takes place Nov. 1 and is connected with the Catholic holidays All Saints' Day and All Souls' Day, says Peter Haney, assistant director for the KU center of Latin American studies.
During Día de los Muertos, people visit grave sites, attend church services, make offerings and also make their own altars at home for their dead loved ones. Offerings at altars and graves include food, such as sugar skulls and breads, and art, such as paper flowers, masks, paintings and drawings.
Haney says the art connected with Día de los Muertos isn't just visual; there are also many satirical poems and stories published and performed as part of the holiday. Some of them poke fun at public figures; others tell stories of cemeteries and what the afterlife, or rebirth, is like.
"It's a way to celebrate loved ones who've passed on and reflect on the transitory character of life with a paradox of reverence and humor," he says.
Celebrations in Kansas
After Ramburg began celebrating Día de los Muertos at home, she began talking about it with others, and interest to have a community celebration grew. As a member of the board of directors at the Lawrence Percolator, Ramburg helped to organize the first Día de los Muertos celebration with the organization.
Since then, the celebration at the Percolator has grown. This year, participants can bring their own photos and offerings to place on altars already set up, or they can create their own altar.
"Talking about death and processing death is a very important thing to do, and our culture doesn't do it very well, so I think there's some work that needs to be done there," Ramburg says. "This gives people a little bit more space to express their love and express their grief in positive ways."
Despite the traditional offerings and honoring of loved ones, the celebrations of Día de los Muertos in Lawrence and surrounding areas is different than in Mexico or areas with a larger Hispanic population.
Many Día de los Muertos celebrations don't take place at actual gravesites because art organizations are the ones hosting the celebration, says Christina Valdivia-Alcala, the Día de los Muertos Topeka citywide festival co-chairwoman.
Crossing cultural paths
Valdivia-Alcala, a Mexican-American living in Topeka, says she had celebrated her loved ones through a full-time altar at her house but knew very little about the indigenous component of her heritage until she began planning the citywide celebration of Día de los Muertos.
"Our (Mexican) culture was continuing to be revitalized through celebrations ... (planning the event) we learned just as much and welcomed people into this that are not Latino," Valdivia-Alcala says.
Much of the excitement surrounding the holiday is from the immigrant and Mexican-American community, Valdivia-Alcala says, but just as much, if not more, interest is generated from Anglo-Americans.
Ramburg is one of many who celebrates the holiday but is not Hispanic. She believes Día de los Muertos is about making death beautiful and "making something beautiful is a universal act."
"I'm a human being, and this holiday addresses that, and a human being needs to honor and remember their people," Ramburg says.
The celebration of Día de los Muertos is from 5 p.m. to 9 p.m. Friday at the Lawrence Percolator, Ninth and New Hampshire streets in the alley behind the Lawrence Arts Center, and is free and open to the public. There will be a performance by El Día de los Muertos Community Band as well as food and art. Guests are encouraged to bring photographs and other offerings for the altars.
Copyright 2018 The Lawrence Journal-World. All rights reserved. This material may not be published, broadcast, rewritten or redistributed. We strive to uphold our values for every story published.