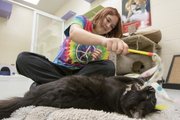 More than 70 volunteers turned out Saturday for Make a Difference Day, and there was plenty of dog washing, leaf raking and hard work for all of them.
The volunteers included children, parents, church groups and Kansas University students who worked on nine community service projects at Lawrence schools and nonprofit agencies. The projects varied from shampooing dogs at the Lawrence Human Society to cleanups and landscaping at New York, Schwegler and Hillcrest schools. Others prepared a garden at The Willow Domestic Violence Center and helped the Douglas County AIDS Project pack up their offices for a move.
Their efforts were part of national Make A Difference Day, the largest community service effort in the country, organized locally by The United Way Roger Hill Volunteer Center.
Shannon Reid, a spokeswoman for volunteer center, said the turnout this year was a little less than usual. Make A Difference Day usually counts on a large number of Kansas University students participating, and the homecoming football game might have drawn away some potential volunteers. But several of Saturday's projects were family-friendly, and many parents brought their children out for a few hours of light yard work.
"It's not always easy to find volunteer opportunities you can bring your kids to," Reid said.
Some of those kids were at New York School, 936 New York, which saw one of the biggest turnouts with at least 40 volunteers cleaning inside and landscaping outside. Sixth-grader Blue O'Leary, an alumna of the school, was there raking leaves and reliving old times with a classmate.
"We talked about a lot of things that happened last year that I completely forgot about," she said.
Nancy DeGarmo, the school principal, said she was most pleased with the new kickball court that a group of KU students painted on the playground. Until now, she said, kids had been using sticks and stones for bases, leading to disputed calls and arguments that can now be avoided.
Other volunteers, including some from Lawrence's Altrusa International club and the Wesleyan Church, went inside the school to clean the walls — especially the lower sections, which tend to get dirtied by passing children with grubby hands.
At the Lawrence Humane Society, volunteers were busy with a completely different cleaning job. A group of adult volunteers there coaxed dogs through an assembly line of industrial sinks, shampoo, and blow-dryers. Volunteer Wendy Patricio-Ortiz, of Lawrence, said the dogs needed a good washing to be attractive candidates for adoption. And many, stressed from the road that brought them to the shelter, needed a little extra care.
"We're trying to pamper them a little in the process," she said. "You have to be a little delicate with them, pay them a little more attention."
The United Way Roger Hill Volunteer Center recruits for community service projects year-round. For more information, visit volunteerdouglascounty.org.
Copyright 2018 The Lawrence Journal-World. All rights reserved. This material may not be published, broadcast, rewritten or redistributed. We strive to uphold our values for every story published.