The gloves came off early in the campaign between state Sen. Tom Holland and state Rep. Anthony Brown for the 3rd State Senate District.
-->
Holland, a Democrat from Baldwin City, and Brown, a Republican from Eudora, have tangled over school finance, tax cuts and safety issues along Kansas Highway 10.
A 2011 traffic fatality on K-10 spurred local advocacy for cable median barriers to be placed along certain sections of K-10. Eudora Mayor Scott Hopson said when the community sought help from the Legislature, Holland answered the request and Brown didn't.
"He basically left us high and dry," Hopson said of Brown.
But Brown said he worked "tirelessly" behind the scenes with Gov. Sam Brownback's administration, and he accused Holland of trying to politicize a tragedy. Brown has provided a July letter from Kansas Department of Transportation Secretary Mike King, who thanked Brown "for your ongoing concern to see this project through." King was appointed secretary by Brownback in March.
But former KDOT Secretary Deb Miller, who served from 2003 through 2011, said Holland and Eudora Mayor Hopson "were involved from start to finish in the discussions that led to the installation of new safety barriers in the highway median. Rep. Anthony Brown simply was not."
In response, Brown said that after a bill pushed by Holland to set up a safety corridor on K-10, where fines would have been increased, failed to gain traction in the Legislature, Brown then worked with the governor's staff to get the median cables.
Another local issue has sparked controversy. During a debate, Brown said that two Eudora school board members told him that state cuts to school funding were positive because they allowed the district to get rid of some "dead weight" in the district.
But Brown has refused to identify the school board members, and all of the board members denied Brown's claim.
On the wider issue of state school finance, Holland said the Brownback tax cuts that Brown voted for will decimate education funding in future years.
But Brown has said the tax cuts will help grow the economy and put more money in the hands of Kansans.
The state is decreasing its individual income tax rates for 2013, with the top rate dropping to 4.9 percent from 6.45 percent. Also, the state will exempt the owners of 191,000 partnerships, sole proprietorships and other businesses from income taxes.
Overall, the Legislature's research staff projects the tax cuts will create collective budget shortfalls approaching $2.5 billion over the next six years. Public school education makes up about half of the state budget.
Brown is among the group of conservative Republicans in the Legislature backed by Brownback, the Kansas Chamber of Commerce, the billionaire Koch brothers and groups affiliated with them, and Kansas Secretary of State Kris Kobach.
Meanwhile, Holland has been endorsed by the Kansas National Education Association, the MainStream Coalition, Kansas Citizens for Higher Education, Economic Lifelines and Independence Inc.
Brown has occasionally generated controversy through his comments.
In a 2011 debate on an amendment to cut more spending from the budget, Brown urged a "yes" vote, saying, "I personally believe we were called here by my creator. I wasn't called to be mediocre. I was called to be great."
At a January 2011 Lawrence Chamber of Commerce breakfast, Brown was critical of Lawrence for being too liberal.
The 3rd Senate District covers eastern Douglas County, including the southern portion of Lawrence, Baldwin City, Eudora and western Leavenworth County.
Candidate profiles
Anthony Brown-R
Age: 43
Occupation: Carpenter/self-employed contractor
Married: Yes
Children: Six
Religion: Catholic
Education: Bachelor's degree in secondary education from Emporia State University
Experience: State representative, first elected in 2004. Taught school for four years before a career change to carpentry
Quote: "The issue I'm most concerned about is getting Kansas families on the right track economically."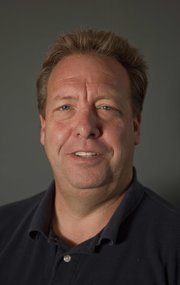 Tom Holland-D
Age: 51
Occupation: State senator; owner and president of Holland Technologies, an information technology and professional services firm
Married: Wife, Barbara
Children: Four
Religion: Member of Plymouth Congregational Church
Education: Bachelor of Science in business administration from Indiana University, 1983; Master of Business Administration from University of Minnesota, 1987
Experience: Elected to the Kansas House in 2002; serving three terms before being elected to Kansas Senate in 2008. Democratic candidate for governor in 2010 but lost to Republican Sam Brownback
Quote: "The state needs to restore funding to K through 12 schools. I believe that education is the key driver for economic development in the state."
Copyright 2018 The Lawrence Journal-World. All rights reserved. This material may not be published, broadcast, rewritten or redistributed. We strive to uphold our values for every story published.