The race for state Senate District 19 features the state's longest-serving legislator, state Sen. Anthony Hensley, against a political newcomer, Casey Moore.
-->
Hensley, a Democrat, and Moore, a Republican, match up in the Nov. 6 general election for the district, which includes western Douglas County.
Both candidates are from Topeka.
Hensley has been in the Legislature since 1976, first in the House and then the Senate, since 1992, where he serves as the minority leader.
Moore points out that he was born the same year Hensley started in the Legislature. Moore, who has lived in Kansas since 2006, says career politicians are disgusting and he supports term limits.
Hensley said his longevity shows voters in the district believe he has done a good job and keep re-electing him.
The campaign features what has become a familiar division between Democrats and conservative Republicans in this election season.
Moore, who has worked as a singles pastor, written a book on Christian dating and now trades commodities, has received the support of the Kansas Chamber of Commerce and Americans for Prosperity, a group founded by the billionaire Koch brothers that doesn't have to disclose how much it raises or spends.
Hensley has the support of education groups and retired state employees.
The two have faced off in several forums.
Hensley said the tax cuts signed into law by Gov. Sam Brownback are going to rob necessary revenue from education and social services.
The measure will decrease individual income tax rates for 2013, with the top rate dropping to 4.9 percent from 6.45 percent. Also, the state will exempt the owners of 191,000 partnerships, sole proprietorships and other businesses from income taxes. Hensley has also criticized the package for eliminating a food sales tax refund for poor people.
According to legislative research staff, the tax cuts will produce a budget deficit of $2.5 billion within a few years, and that will lead to higher property taxes and cuts to schools, Hensley has said.
But Moore has described the $2.5 billion deficit as a bogus number and said he wants to cut taxes further in order to spur more economic growth.
"More jobs, less government," Moore repeatedly says at campaign appearances.
But Hensley said shrinking government needed to be done carefully, and he used the example of when the Brownback administration wanted in 2011 to shut down the state welfare office — a proposal that was dropped after a public outcry.
Moore has also questioned the need for additional funding for public schools, saying that Kansas spends $12,000 per year per student.
But Hensley says that figure includes a lot of noninstructional funding, such as teacher pension funds and capital outlay. The state's base state aid per pupil has been cut significantly during the Great Recession, and those funds should be restored, he said.
Another area where the two differ is on the comprehensive transportation program.
Hensley voted for it but Moore says transportation projects are saddling the state with debt.
Candidate profiles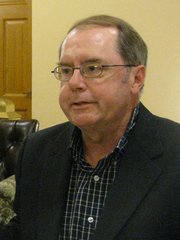 Anthony Hensley-D
Age: 59
Occupation: Public school teacher
Married: Wife, Deborah
Children: One
Religion: Baptist
Education: Bachelor's degree from Washburn; master's degree from Kansas State University
Experience: First elected to the Kansas House in 1976; elected to state Senate 1992; Senate minority leader 1996 to present
Quote: "I understand how difficult it has been for Kansas public schools to endure seven rounds of devastating cuts in just three years. That's why I introduced a plan to restore funding by $267 per student while holding the line on local property tax increases. By restoring cuts incrementally, this plan would have given school boards certainty for the future and helped them plan for the most urgent needs facing their local schools."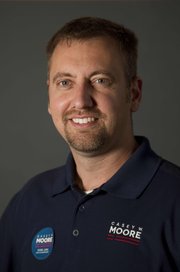 Casey Moore-R
Age: 36
Occupation: Commodities trader
Married: Never married
Children: None
Religion: Christian
Education: Undergraduate degree in civil engineering at Virginia Tech; master's degree from Dallas Seminary and Master of Business Administration from Bar-Ilan University in Israel
Experience: After graduating, worked as a project engineer for a heavy construction general contractor in the water/wastewater treatment plant industry; during graduate school, worked for a transportation consulting firm and traded his own financial portfolio
Quote: "Long gone are the days of slavery in America. Yet if government continues to grow, we will all become slaves to government debt and government mandates. Voters must elect legislators who understand the importance of more personal liberty and less government intrusion."
Copyright 2018 The Lawrence Journal-World. All rights reserved. This material may not be published, broadcast, rewritten or redistributed. We strive to uphold our values for every story published.