Veritas defeated Flint Hills Christian, 52-6, Thursday night at the Eagles' Nest, ending the game by mercy rule with a 46-point lead at the 10:30 mark in the third quarter.
Photo Gallery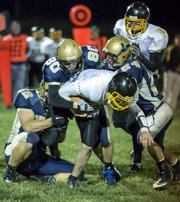 Veritas Football vs. Flint Hills Christian School
The leading rushers were Alex Lynch with 81 yards, Caleb Holland with 57, and Andrew Harvey with 48. Holland scored four touchdowns, including one on a 38-yard interception return. Harvey had eight tackles and Bryce Boland five as the Eagles' two seniors were honored on Senior Night.
"It was a good night for our seniors," coach Doug Bennett said of Harvey and Boland. "We continue to execute. We continue to come out and from the get-go, we're playing with lots of intensity and physical and establishing the tone for the game."
Veritas (7-2), the No. 2 seed in the KCAA playoffs, opens at home against Topeka Cair Paravel at 6 p.m. on Tuesday. The tournament includes four teams, with No. 1 St. Mary's hosting St. John's Military also on Tuesday. The championship game is Nov. 3.
Copyright 2018 The Lawrence Journal-World. All rights reserved. This material may not be published, broadcast, rewritten or redistributed. We strive to uphold our values for every story published.