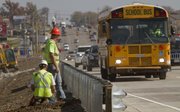 Lawrence motorists, your commute along 23rd Street got a little flatter on Wednesday — and a little less rooted in the Great Depression era, too.
A new $4.3 million bridge on 23rd Street between Haskell and Barker avenues partially opened to traffic Wednesday, and motorists immediately began to notice the bridge no longer sits atop a large hill.
"I think they lowered the bridge by 8 to 10 feet," said Dave Cronin, Lawrence's city engineer. "I have heard a lot of good things from people who have driven over the bridge today and said it was a huge improvement."
The flatter road is expected to improve safety by increasing the sight distance for motorists pulling onto 23rd Street at both Learnard and Barker avenues.
Motorists, though, won't completely have smooth sailing over the bridge yet. Only three of the four lanes currently are open on the bridge, and that likely will be the case until midwinter, said Kim Qualls, a spokeswoman with the Kansas Department of Transportation. Currently, the two westbound lanes are open but only one eastbound lane is open across the bridge. Crews are still working to install a concrete median on the bridge and make other finishing touches.

But leaders with both the city and with the Kansas Department of Transportation, which funded and designed the project, said they were particularly pleased that thousands of motorists a day no longer were traveling over a bridge that was more than 80 years old.
The previous 23rd Street bridge was built in 1931 and was widened in 1971. In recent years, signs of the bridge's deterioration had become more obvious as portions of the pavement near the bridge had begun to dip and ripple.
"There was an abutment that kept settling, and there were just issues with the old abutments in general," Cronin said.
The new bridge takes care of those issues, and adds several amenities including a wrought iron-style pedestrian railing, ornamental street lamps, and a wider driving surface. The new bridge is 14 feet wider than the original bridge, although the center portion of the new bridge will be occupied by a stamped concrete median once the project is complete.
Lawrence-based RD Johnson Excavating was the primary contractor on the project, and Qualls said KDOT was pleased with how smoothly the project went.
"The fact that we were still able to keep two lanes of traffic flowing through the construction zone helped a lot," Qualls said.
Copyright 2018 The Lawrence Journal-World. All rights reserved. This material may not be published, broadcast, rewritten or redistributed. We strive to uphold our values for every story published.