Topeka — Republican senatorial candidate Casey Moore on Tuesday said he wanted to cut taxes further and criticized the state transportation program while Democratic incumbent state Sen. Anthony Hensley said the tax cuts signed into law by Gov. Sam Brownback will deprive revenue from schools and he praised the transportation plan as a jobs producer.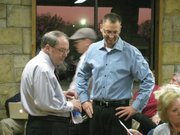 The two clashed before approximately 100 people in a lodge near Lake Shawnee in the race for the 19th State Senate District, which includes much of western Douglas County.
During the forum, Moore alleged that Hensley, who is a Topeka public school teacher, did not make up the time to the school district that he spends working in the Legislature each year.
"I would argue with the fact that he's even a teacher," Moore said, which produced some booing from the crowd.
Hensley said "I make it up by teaching summer school," Hensley said. Moore then said it should be investigated. Hensley responded, "You can take it to the bank about summer school. I guarantee it."
Moore also said he supported term limits and no pay for legislators and he criticized Hensley for being in the Legislature since 1976, the year Moore was born.
Moore held up an 8-track cassette of the soundtrack of "Rocky," a popular movie from that year and said Hensley "knows he is an eight-track tape in an MP3 world." Moore said career politicians were "sick" and "disgusting."
Hensley said his longevity in the Legislature is due to the fact that voters think enough of him to keep re-electing him.
Hensley described himself as a public servant both as a legislator and teacher said it was the height of irony that Moore kept saying he was for more jobs and less government "and he wants a government job."
On the issue of taxes, Hensley said Brownback's tax cuts will produce a budget deficit of $2.5 billion within a few years, and that will lead to higher property taxes and cuts to schools.
The measure will decrease individual income tax rates for 2013, with the top rate dropping to 4.9 percent from 6.45 percent. Also, the state will exempt the owners of 191,000 partnerships, sole proprietorships and other businesses from income taxes. Hensley also criticized the package for eliminating a food sales tax refund for poor people.
"I call it a tax shift," Hensley said. "It's going to be made up for by raising other taxes, particularly at the local level. It is bad public policy and it is going to leave this state in a deficit in a very short period of time," he said.
But Moore criticized Hensley's answer. "What you are hearing is campaign rhetoric from a typical liberal Obama Democrat," Moore said
Moore said he would support more cuts in income, sales and property taxes. "You better believe it," he said. He said tax cuts would lead to economic prosperity.
He said the $2.5 billion deficit cited by legislative research staffers was a bogus number.
Earlier, Hensley and Moore agreed that they would oppose any effort to extend the three-year temporary state sales tax past its expiration date next year.
Four-tenths of a cent of that increase will stay in place to support the state's 10-year transportation plan that includes projects such as the proposed South Lawrence Trafficway.
Hensley praised the transportation plan, which he voted for, and cited state figures that say it will produce 175,000 jobs over the life of the plan,
But Moore criticized the plan, saying it was sticking more debt onto future generations. "It's a big problem," he said.
Copyright 2018 The Lawrence Journal-World. All rights reserved. This material may not be published, broadcast, rewritten or redistributed. We strive to uphold our values for every story published.