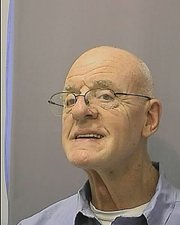 A convicted Lawrence sex offender was one of 14 Kansas men listed in the recently released "perversion files" kept by the Boy Scouts of America and released Thursday by order of the Oregon Supreme Court.
According to the file, 72-year-old Lawrence resident James Douglas Jackson — convicted in Douglas County in 2001 of several sex crimes — was removed from a Kansas City, Kan.-area Boy Scout unit following allegations that Jackson sexually assaulted a boy during a scouting trip.
Jackson had been registered with a scouting unit in Kansas City since 1981, and the allegations allege that Jackson abused a boy in May 1985, according to the file, obtained from a database operated by the San Jose Mercury News. Days following the alleged abuse, Jackson was sent a letter indicating he'd been removed from the Boy Scouts.
Included in Jackson's file is a three-page letter detailing the abuse. However, the letter is handwritten, and some of it is illegible.
In 2001, Jackson was convicted in Douglas County of four sex crimes, including two counts of criminal sodomy on a minor, and two counts of indecent liberties with a child. Jackson spent more than 10 years in Kansas prisons but was released in April of this year and is required to register as a sex offender for life.
The other 13 cases in Kansas include alleged abuse in several Kansas cities such as Wichita, Olathe, Leavenworth, Kansas City and Manhattan.
According to a criminal record search with the Kansas Bureau of Investigation, Jackson has no other arrests or convictions in Kansas.
Jackson's file does not indicate whether the Boy Scouts reported the case to police. One of the major criticisms in the wake of the released reports is that the Boy Scouts failed to report many cases of abuse to authorities, instead concealing cases in confidential files to protect the organization.
Copyright 2018 The Lawrence Journal-World. All rights reserved. This material may not be published, broadcast, rewritten or redistributed. We strive to uphold our values for every story published.