Photo Gallery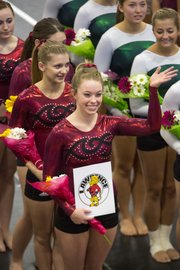 Lawrence High / Free State Gymnastics State Meet
Free State High senior Jackie Zaitz spent all Saturday at Lawrence High wearing a walking boot that supported her right ankle. Instead of showing off her all-around skills at the state gymnastics meet, she jotted down scores, walked around gingerly and watched her Firebirds teammates chase a second consecutive state title without her.
Following an exceptional floor exercise by FSHS to close the day, Zaitz couldn't hide her emotions anymore. Tears sneaked out of her eyes as she hugged her teammates. The proud leader of the team wished she could have contributed.
Despite her absence, Free State posted its best team score of the season, 104.925. However, it wasn't enough to top 2012 state champion Olathe East (106.775), led by vault, beam, floor and all around individual champion Allison Meads.
The Firebirds, under first-year coach Jessica McMurray, finished as runners-up a year after winning state with Zaitz in the lineup.
Said sophomore Grace Bartle (fourth in all around): "I don't think we ever fully got over it (Zaitz's injury), which is why we got second."
The Firebirds might not have finished even that high had they not closed the day with a dominating floor exercise. Bartle (9.35) took second, sophomore Carrie Howland (9.3) earned third and senior Annie Soderberg (9.1) was fifth.
It came immediately following another Free State injury. Senior Brooke Leslie hurt her left knee in warm-ups before the floor exercise. That meant junior Hannah Moran had to step in to replace Leslie at the last minute. Showing no signs of unpreparedness, Moran opened Free State's final show with 8.475, one of her best routines of the year.
Soderberg said Moran gave the Firebirds the momentum they needed, considering they had just had a rough outing on the beam, scoring only 24.525.
"She hit everything that we planned to hit and stuck her tumbling pass, which was our major goal," Soderberg said
Haley Johnson then kept the pro-Free State crowd fired up with her routine, and Soderberg, Bartle and Howland closed it out.
"I feel like we kicked butt on floor," Soderberg said after FSHS scored 27.75 as a team, better than all 12 of the other programs.
Bartle took fourth place in vault, and Soderberg tied for fourth in beam and sixth in bars.
"We knew going in that we really had to pick it up without a major teammate," Soderberg said. "We tried to do the best we could with what we had, and we did."
Lions finish sixth
A year after a 12th-place showing at state, Lawrence High made it clear how far it has come under McMurray this season by securing sixth place at state.
"I think it's huge," junior Jessie Abernathy said. "I was so excited."
The crowd backed Abernathy in her floor routine and acknowledged her with a raucous ovation upon its completion. Abernathy's 9.175 points earned her a fourth-place medal.
"I love home meets," she said. "People come and support you, and floor's the best."
LHS junior Allison Williams left the state meet satisfied, too. She just returned to practice this week after suffering a stress fracture in her right fibula. But she still tied for sixth in the beam, with 8.5 points.
Williams said she and teammates Abernathy, Ashley Ammann, Cambry Lynch and Sydney Theilen (Heather Wisbey was out because of a sprained wrist) improved throughout the season. In fact, the Lions' 98.875 score at state was almost five points higher than their score a week ago at Sunflower League, where they placed ninth.
"I'm really proud of those girls," Williams said. "We've come far."
Abernathy expects Lawrence, which had no seniors competing, to keep improving.
"We'll have the same team next year," she said, "and I feel like we can come back even stronger and place in the top three and be a major competitor."
Copyright 2018 The Lawrence Journal-World. All rights reserved. This material may not be published, broadcast, rewritten or redistributed. We strive to uphold our values for every story published.