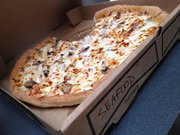 Seafood pizza is not-so-unusual fare in Europe. (At least in this reporter's recollection from a French college cafeteria, one often-served specimen was a thin-crust round with marinara and baby octopus on top.) The Seafood Elite is a similar idea but Americanized all the way — it's fettuccine alfredo with shrimp, but on crust instead of noodles, and with mozzarella, red onions and mushrooms.
Where to get it: Minsky's Pizza, 934 Mass.
What you'll pay: $18.99 plus tax for a large
Try it with: An appetizer like garlic cheese toast, or add extra toppings of your choice.
Also on the menu: Hot sandwiches, calzones, big salads, pasta and other gourmet specialty pizzas such as the Philly Cheese Steak, the Tostada, the Mediterranean and the Chicken Cordon Bleu.
Restaurant website: minskys.com/lawrence
Copyright 2018 The Lawrence Journal-World. All rights reserved. This material may not be published, broadcast, rewritten or redistributed. We strive to uphold our values for every story published.