Caleb Holland scored four touchdowns, and Andrew Harvey gained 133 yards on 24 carries, but Veritas Christian fell to St. Mary's Academy, 66-48, in high school football Friday night.
Holland had scoring receptions of 58, 30 and 45 yards and a TD run of 9 yards, and Harvey scored on runs of 1 and 28 yards.
Photo Gallery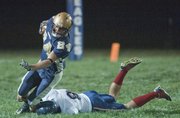 Veritas vs. St. Mary's football
Elijah Harvey also scored on a 1-yard run and threw a pair of touchdown passes.
"It was a fun one to be a part of," Veritas coach Doug Bennett said.
When Andrew Harvey scored with 6:05 remaining, Veritas cut its deficit to 62-48, but the Eagles could come no closer.
"We got it close," Bennett said. "They spread us out. They've got a very gifted quarterback. We weren't able to slow them down on the defensive end. Our guys fought very hard.
"It was a very physical game."
Veritas (6-2) will play host to Flint Hills Christian on Thursday.
Copyright 2018 The Lawrence Journal-World. All rights reserved. This material may not be published, broadcast, rewritten or redistributed. We strive to uphold our values for every story published.