Photo Gallery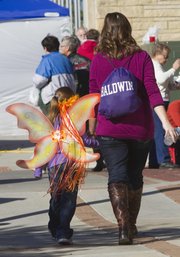 Baldwin City Maple Leaf Festival
As a high school band in the Maple Leaf Festival Parade made its way west Saturday morning on Baldwin City's High Street, Brenda Hunt and two friends were marching the other direction.
Hunt's arms were filled with items purchased at festival crafts booths while her companion, Sue Howard, rolled a piece of luggage filled with merchandise she and friend Daisy Parker had bought.
"Our arms are full, and our bags are full, so we're going to the car to unload," Hunt said. "We come every year. It's girls' day out."
Hunt and Howard, of Basehor, are joined in the annual festival outing by Parker, of Berryton. Experienced festival-goers, they didn't intend to let early-morning shoppers make off with choice items.
"We got here at 9 (a.m.) when they opened," Hunt said. "We're not done yet."
Early arriving booth browsers were a trend of the festival this year, said Donita Turk, a veteran of the Baldwin City Annunciation Catholic Church food booth at the prime festival site of Eighth and High streets.
"We had people wanting food at 9 a.m.," she said. "There were a lot of people out at 9. We started our grill way early."
Shortly before noon at the Kappa Sigma food booth at Eighth and High streets, Mary Spotz, of Rantoul, was fulfilling a Maple Leaf obligation, purchasing four turkey legs to take back to her husband.
"We used to live in Baldwin," she said. "Every year, I have to get him turkey legs."
Spotz smartly came to the booth while a crowd four rows deep watched the parade at it turned north on Sixth Street from High Street. Thirty minutes later, she would have had to wait in line at least 10 minutes to order food.
Shortly before the parade ended, Donna Curran, Maple Leaf Festival Committee crafts booth chairwoman, said everything was in place for a great day.
"The weather's wonderful," she said. "The wind yesterday was a little hard on some of my vendors' tents, but everyone is set up and ready for the crowd to start arriving."
No one had an estimate of attendance by late afternoon Saturday, but vendors said the crowd seemed on par with past Saturdays when the festival drew 30,000 visitors for the weekend.
"It's good, as good if not a little better," said Donna Haddox, whose family has had a booth selling iron lawn ornaments and fixtures at the corner of Eighth and Indiana for 13 years. "It's just been a real good first day."
Brian and Trenda Garrett didn't have past experience with which to compare the business they had at their Bulldog Bakery's Sweet Shop, which just opened a few doors north of the festival's Eighth and High epicenter. By the time the couple locked the door at 4 p.m., they just knew they were tired and out of some treats.
"People found out we were the only ones with scooped ice cream, and it just took off like crazy," Brian said.
The Maple Leaf Festival continues today starting at 9 a.m. in Baldwin City.
Copyright 2018 The Lawrence Journal-World. All rights reserved. This material may not be published, broadcast, rewritten or redistributed. We strive to uphold our values for every story published.