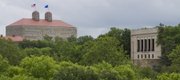 Subscribe to the email edition of Heard on the Hill and we'll deliver you the latest KU news and notes every weekday at noon.
Your daily dose of news, notes and links from around Kansas University.
• We start today with another Heard on the Hill special guest appearance, this one from Statehouse reporter Scott Rothschild, who has some more goods on the planned new School of Business building from a Kansas Board of Regents meeting Wednesday (including the revelation that the repurposing of Summerfield Hall may lead the university to sell the Oldfather Studios building on Ninth Street).
Here's Scott:
More details about Kansas University's proposed $65.74 million School of Business building are emerging as officials start analyzing the plan.
In responses to questions from members of the Fiscal Affairs and Audit Committee of the Kansas Board of Regents, KU officials said the building will be funded with a combination of private gifts and university resources.
The fundraising target of private gifts for the building is $40 million to $50 million. The university resources will be made up of technology fees, tuition and course fees from increased enrollments. "For planning purposes, our funding model assumes that tuition and course fees will increase 3 percent per year," KU said in a memo.
The cost of the building and equipment breaks down to about $395 per square foot.
KU provided regents members with a cost comparison with several other recent construction projects.
The BEST building at the Edwards campus completed in February cost $306 per square foot for construction and equipment. "This project was bid in April 2010 and benefited from unusually favorable bidding conditions," KU said.
The School of Pharmacy, completed in August 2010, had a $391 per-square-foot overall cost. "It was a technology-rich facility, but also benefited from unusually favorable bidding conditions when bid in multiple packages during 2009," KU said.
After the new business building is completed, the current business school building, Summerfield Hall, will be repurposed. "We anticipate that Oldfather Studio will be sold once we find a home for the soundstage for Media and Film studies," KU said.
Summerfield Hall has a gross square footage of 94,925 square feet, while the new business building will be a 166,000-square-foot facility.
• Thanks, Scott. Back to our regularly scheduled programming now: If you live in Lawrence, you may find a flier at your door this weekend notifying you about KU's "Big Event."
That's the annual effort at KU to send an army of student, faculty and staff volunteers out into Lawrence to help with neighborhood and household projects around town.
The actual Big Event is not until April 13, but this week has been the group's annual Fall Awareness Week, and it will conclude Saturday with a flier-distribution effort around town.
The group is looking for projects with which its volunteers can help out — it's aiming for 400 of them, in fact. It's also shooting for 4,000 volunteers to help out. I have to imagine that meeting those goals will be quite the large undertaking, so it makes sense that they'd like folks to be thinking about it nice and early.
People around Lawrence with projects, as well as prospective volunteers from campus, can register for the effort starting in January.
• Classical guitarist Robert Belinic of Croatia is performing Sunday at the Lied Center. But he'll be sticking around on Monday to perform at the Kansas Union for anyone who'd like to break up his or her day with some classical guitar.
The performance actually will be a duet with a KU faculty member — and not one from the School of Music, as one might expect. Accompanying Belinic will be Marc Greenberg, a professor of Slavic languages and literature.
It seems classical guitar is a pretty serious extracurricular interest of Greenberg's, and he even has a special seven-string guitar from early 20th century Russia.
So if you'd like a nice musical interlude from some classically trained performers Monday, stop by the Traditions Area on the fourth floor of the Union at noon. It's free.
• You know exactly where to go for your daily KU news interlude: right here at Heard on the Hill. It is also free, though we do depend on our ever-helpful tipsters to keep sending their stuff to merickson@ljworld.com.
Copyright 2018 The Lawrence Journal-World. All rights reserved. This material may not be published, broadcast, rewritten or redistributed. We strive to uphold our values for every story published.