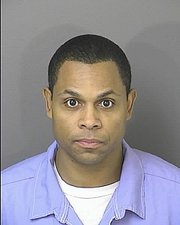 Shawnee County prosecutors have decided to drop a rape charge against Joel Russell, 46, who was identified earlier this year by DNA evidence as a suspect in a 1985 Topeka kidnapping and rape for which another man was wrongfully convicted.
"It's a total shame," said Shawnee County Assistant District Attorney Jacque Spradling, who was handling the case.
Despite a 2001 Kansas law that allows prosecutors to charge sexual assault suspects up to one year after they're identified as a suspect by DNA evidence, a United States Supreme Court decision prevents prosecution if the statute of limitations had run out prior to the 2001 law, Spradling explained.
For Russell, who is in prison on several other sex crime convictions, the statute of limitations — seven years in sexual assault cases — had expired by 1992 on the Topeka rape.
At the time they charged Russell, Spradling said they believed they'd be able to prosecute Russell, but learned otherwise through further legal research.
"We filed the case in good faith," she said.
The charges against Russell were spurred by a 2011 Journal-World feature on Topeka resident Joe Jones, who was wrongfully convicted in the rape. In 1992, with the help of lawyers from Kansas University, Jones became just the seventh person in the country to be exonerated by DNA evidence.
The DNA evidence in the case, however, had not been retested and entered into the national DNA database until earlier this year. As part of the feature on Jones, the Journal-World discovered that the DNA evidence was still available and testable. Topeka police then located the evidence and retested it in late 2011. The DNA profile matched that of Russell, and he was charged in April with the 1985 rape.
The victim in the case — who was kidnapped at knife point outside of a Topeka nightclub and raped on Aug. 24, 1985 — has been in regular contact with the Journal-World and had hopes she'd finally get justice in the case.
"I'm so mad I can't see straight," said the woman, who was notified Tuesday that the case would be dropped.
Though prosecutors have dropped the charge, it's possible Russell will never leave prison.
Shortly after the 1985 rape, Russell was arrested for three other crimes in which he used a knife and attempted to kidnap a woman in the downtown Topeka area. Russell was convicted on numerous charges in that case, but was released from prison in 1990. In 1993, Russell was convicted of sexually assaulting two girls in Reno County the previous year.
For those crimes, he's serving up to a life sentence, but has been eligible for parole periodically since 1998. Russell was up for parole this year, but last week the Kansas Department of Corrections announced that Russell had been denied parole until at least June 2015.
Both Jones and the victim in the case said they'd continue to urge the Kansas Prison Review Board to keep Russell behind bars.
The victim said she'd also pursue some form of legal advocacy in the case.
"This can't happen," she said. "Something's got to change."
Jones and the woman had not spoken until late last year, when the woman sent Jones a Christmas card, apologizing for the injustice he suffered in the case.
Jones, who battled drug addiction and mental health problems in the decades since his release from prison, had been closely following the Russell case.
"Wow," said Jones, notified Thursday that the charges would be dropped. "Wow."
Copyright 2018 The Lawrence Journal-World. All rights reserved. This material may not be published, broadcast, rewritten or redistributed. We strive to uphold our values for every story published.