Lawrence High's boys soccer team celebrated Senior Night with a 3-0 victory over Shawnee Heights on Thursday at LHS.
Photo Gallery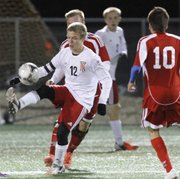 Lawrence High School vs. Shawnee Heights soccer
The Lawrence Lions boys soccer team played Shawnee Heights Thursday night at LHS.
Senior Justin Riley scored two goals and classmate Johannes Reiber scored one, all in the first half, for the Lions.
Seniors Luke Matthews and Bray Kelley had assists on Riley's goals, and junior Parker Davies assisted on Reiber's goal.
"We played strong defense," LHS coach Mike Murphy said. "In the second half, we did a good job of possessing and making sure we didn't give up a goal."
LHS senior goaltender Jeff Mekus recorded the shutout.
"It was Senior Night, so our of all seniors got a lot of playing time," Murphy said. "We have 15 seniors. A lot of them have been with the program for four years, and that hard work has paid off."
The victory was the 10th of the season for LHS.
"One of our goals was to get to double digits in wins, and we've got that," Murphy said. "So now we're going to try to go forward from there in the playoffs and do the best we can."
The Lions (10-5-1) will play at home at 7 p.m. Tuesday against a yet-to-be-determined opponent in the first round of regionals.
Copyright 2018 The Lawrence Journal-World. All rights reserved. This material may not be published, broadcast, rewritten or redistributed. We strive to uphold our values for every story published.