Photo Gallery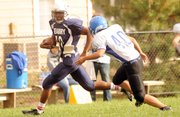 Seabury football vs. KSD
Bishop Seabury Academy's on-again, off-again football program just might be here to stay.
After having their 2009 season cut short and not fielding a team the following two falls, the Seahawks capped a successful — though truncated — return season Wednesday with a 61-8 home victory over the Kansas School for the Deaf.
Although Seabury's sixth and final game of the season (athletic director Eric Nelson wanted to ease the program back into existence) began with the Seahawks trailing by eight less than three minutes in, they recovered to score 61 unanswered points.
Senior Fischer Almanza, the only Seahawk left over from the 2009 team, hoped the decisive win would serve as a statement about the program.
"There's a future here for football," said Almanza, who gave BSA the lead for good with a 54-yard, tackle-breaking touchdown reception in the first quarter.
The margin in the season finale might have been much different had KSD running back Randy Ahtone (10 carries, 134 yards and a touchdown) not left the game because of an injury early in the second quarter. Seabury (4-2) led 13-8 at that juncture, but quickly took control in Ahtone's absence.
After junior Marcus Allen and Almanza stuffed a fourth-down try from KSD in the red zone with 5:38 left in the first half, junior Seabury quarterback Joe Simpson threw the ball deep down the field on the Seahawks' opening play on the next drive and hit senior Eric Shin for a 62-yard touchdown.
KSD's troubles escalated on its ensuing possession with a fumble on the first play, which was recovered by BSA sophomore Charlie Arnold. The Seahawks, starting in the red zone, scored again on a 17-yard run by Allen, building a 29-8 lead.
Following another unproductive possession for KSD, Simpson connected with Allen for a 32-yard touchdown pass, and Seabury took a 36-8 lead into halftime.
The touchdowns kept coming with ease for the Seahawks in the second half, highlighted by freshman cornerback Carter Claxton's 20-yard fumble recovery return for a TD, which initiated a running clock with BSA leading 49-8 in the third quarter.
Allen, who rushed for 76 yards and two touchdowns, said things didn't automatically come that easily for the Seahawks. They struggled at first in preseason practices, as coach Aaron Combs and the players all were thrown into something new and challenging. But the Seahawks followed a 38-0 season-opening loss by winning four of their next five games.
"Coach got on us," Allen said, "we got on each other, and we just figured it out."
Combs felt confident heading into the season that his team would be able to win, but finishing with a 4-2 record seemed even more significant.
"We're laying the groundwork right now so we have a good platform to spring from next year," Combs said, adding that the Seahawks plan to play a full schedule in 2013.
Though Almanza and Shin won't be around for that, the younger Seahawks looked capable of stepping up. Simpson completed five of his seven passes for 167 yards and four touchdowns in the finale. Junior Patrick Gutierrez and sophomores Harley Holub and Arnold produced a touchdown apiece as well.
Said Allen: "We definitely stepped it up this year, and we just have to carry it over (to next season)."
Copyright 2018 The Lawrence Journal-World. All rights reserved. This material may not be published, broadcast, rewritten or redistributed. We strive to uphold our values for every story published.