Lawrence police are looking for a black male spotted brandishing a shotgun near the HyVee, 3504 Clinton Parkway, Thursday around noon.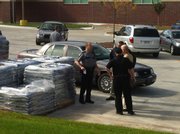 Witnesses reported seeing two men engaged in a disturbance in the parking lot on the east side of the store, and one of them had a shotgun, said Lawrence Police Sgt. Trent McKinley.
Police believe the suspect fled in a vehicle. However, police have yet to locate the other man involved.
A witness who asked not to be named said he was driving west on Clinton Parkway toward Kasold Drive when he saw two men on the northwest corner of Clinton Parkway. He said one man drew a shotgun from a black bag and pointed it at the other man.
"He just stood there," the witness said of the man at whom the gun was pointed. "That's all I saw because I was turning. As soon as I saw him, I took off real fast."
McKinley said police are checking any surveillance cameras in the area, and they hope to release a better suspect and vehicle description.
McKinley is also asking any witnesses, who may have fled during the incident, to contact police at 830-7430
Check LJWorld.com for more information as it is available.
Copyright 2018 The Lawrence Journal-World. All rights reserved. This material may not be published, broadcast, rewritten or redistributed. We strive to uphold our values for every story published.