In the minutes leading up to the Free State High volleyball team's Senior Night home finale against rival Lawrence, coach Nancy Hopkins introduced the Firebirds' nine seniors, one by one, to the crowd. After shedding some tears and sharing the moment with their family members, the seniors closed the procession with a group hug.
The emotions that accompanied the pre-game recognition didn't help the Firebirds much in the city showdown.
Photo Gallery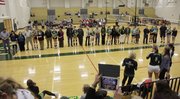 Lawrence High at Free State volleyball
Free State High hosted Lawrence for the city volleyball showdown on Thursday, Oct. 18, 2012.
The Lions, amped for a third shot at FSHS after losing the previous two meetings this season, were the only players celebrating after the match. They joined a group of LHS students in singing their school song on Free State's floor following Lawrence's 25-22, 26-24, 28-30, 25-20 victory.
With so many potential distractions, Hopkins could almost see the result coming.
"There's been many seasons where we've beat them two or three times during the regular season, then lose to them on a night like this," the coach said.
Still, there was a noticeable difference for the Lions (17-17) in their approach compared to the matches Free State (26-11) won at the Emporia Invitational and an Olathe East triangular. LHS senior Monica Howard said this time her team fought on every point.
"We wanted it," Howard said. "We weren't gonna lose to them three times in a row. That's not happening. Not against our rival."
Lawrence showed that kind of appetite throughout the match, beginning in the first set. The Lions held off a FSHS surge with senior setter Brealynn May setting Howard up for back-to-back kills that gave LHS a 23-19 lead. And even though Free State would score three straight points, including a kill by Kailee Dudley and a Morgan Knapp block, to cut the deficit to 24-22, Lawrence recovered to take the set.
Said LHS coach Stephanie Magnuson: "Winning that first game in a match like this is critical."
The Lions continued to assert themselves in the second set, which was tied at 21. Free State even took a 24-21 lead behind a pair of Katy Davis assists to Shelby Holmes. However, the Lions scored the next five points, which included a a kill and an ace by junior Caitlin Broadwell.
The Firebirds momentarily bounced back with a classic third set, featuring 16 ties. A kill from FSHS junior Grace Miller tied the game at 28, and senior Molly Ryan won the set for the home team with back-to-back aces.
While that set could've given Free State some much needed momentum, Broadwell said the Lions found the perfect solution entering the decisive fourth set.
"I think we just kept our heads level," she said. "Forget about that game, just focus on the next one and get this dual over with."
The fourth set came the easiest for Lawrence, which took the lead for good on a block by Howard that gave the Lions a 7-6 advantage. Immediately following that point, LHS freshman Caroline Dykes came up with two kills and an ace in a 3-1 spurt. Howard said the freshman's play proved crucial, because it gave the Lions yet another weapon.
"Our setters, they (the Firebirds) didn't know where they were going to (pass)," she said.
While Hopkins said her team played well at times, she said Lawrence did so throughout the match.
"We made a lot of mental errors," the coach said, "and made mistakes at crucial times."
Free State struggled, Ryan added, to respond correctly to Lawrence on what was, at times, an overwhelming night.
"You start off before the game crying, because it's our last game here ever. And nearly our whole team is seniors, so that just makes it even more emotional on top of all the mental (side) of playing our rival school," Ryan said. "It does take a toll even though you try to keep the mental side out of the way."
Holmes said the Firebirds might have been too laid back regarding LHS, because they had already beaten Lawrence twice.
"Katy (Davis) and I were trying to tell the team we need to focus," Holmes shared. "They (the Lions) aren't gonna come out and be easy to beat."
In fact, Ryan gave credit to the Lions for doing their homework and exposing the holes in Free State's defense.
"The last two times we outpowered them at the net," Ryan said, "but this time they came out and had a lot more harder hits than we were expecting."
Both Lawrence and Free State will play Saturday in the sub-state tournaments hosted by Gardner-Edgerton. The Lions face host GEHS (32-6). The Firebirds, playing in the other bracket, take on Blue Valley West (21-10).
Copyright 2018 The Lawrence Journal-World. All rights reserved. This material may not be published, broadcast, rewritten or redistributed. We strive to uphold our values for every story published.