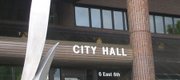 Subscribe to the email edition of Town Talk and we'll deliver you the latest city news and notes every weekday at noon.
News and notes from around town:
• If you are like me and already are planning for Christmas shopping, O'Reilly Auto Parts' first west Lawrence store is projected to open by mid-November. (Dear, that new toolbox you asked for is looking more likely all the time. I'm pretty sure that's what she meant when she mentioned a chest of drawers.)
As we've previously reported, O'Reilly is opening a new location at the shopping center on the southwest corner of Sixth and Kasold, and will be taking a large space right next door to Westlake Hardware.
Paul Cromer, an agent with Lawrence's American Real Estate and Investments, told me O'Reilly tentatively has targeted Nov. 10 as the opening date for the new store.
The O'Reilly project is the latest sign that the shopping center at Sixth and Kasold is undergoing a bit of a renaissance at a time when new shopping areas are developing just up the road near Sixth and Wakarusa. (I should have an update for you tomorrow on new tenants for the space that is being built behind Famous Dave's.)
"Having O'Reilly out there is really like having another anchor tenant for the center," Cromer said. "It will do for us what Westlake has done for us. It will bring a lot more exposure to the center."
O'Reilly is taking spots that were occupied by a furniture rental business at one time and a liquor store. (An auto parts store for a liquor store: Don't let anyone tell you life doesn't involve trade-offs.) The O'Reilly project also has spurred a general revamping of the center with new paint and maintenance projects. The city also has provided a boost, adding a turn lane to the Sixth and Kasold intersection during the recent repaving project.
The center has all but one storefront fully leased. Eco Logic Dry Cleaners recently filled one of the empty storefronts in the center. The environmentally friendly dry cleaning shop opened on Monday. The store is the second location for the company, with its first store near Applebee's on South Iowa Street.
"We wanted to get closer to people who maybe don't want to drive out here to our south store," said Jorge Ocampo, whose family owns the store. "We are about being environmentally friendly, and driving less is good for the environment."
The company, which has been open in Lawrence since 2009, touts its specially formulated blend of dry cleaning chemicals, which it says are more green-friendly than traditional dry cleaning methods.
• Speaking of things that are green, there is perhaps a little too much green in parts of Lone Star Lake. We're talking green as in bacteria, as in E. Coli, as in — excuse the highly scientific term — duck poop.
Or at least that is a leading theory these days. Officials at the Lawrence-Douglas County Health Department have confirmed the E. Coli levels at the swimming beach at the county-operated Lone Star Lake have been on the rise this year.
The Health Department each year takes water samples from Lone Star Lake, and traditionally the E. Coli levels are actually very low — normally between 0 to 50 fecal colony units per 100 milliliters. But when the health department tested in August, the results came back at 146 fecal colony units. That's still a long way from the 732 level at which point the state requires health warnings be posted or the swimming areas closed.
But it was high enough that the health department wanted to further investigate, Richard Ziesenis, director of environmental health for the department, told me.

Two more readings were taken in September, and they came in at 109 and 350 fecal colony units.
Swimming season at Lone Star Lake is over for most of us, so the health department is going to hold off on further tests until spring. But Ziesenis said they will be checking the levels carefully.
The state does have a standard that says if five separate tests taken over a 30-month period average more than 160 fecal colony units, then the beach must be posted with a health warning. Ziesenis said it also is a possibility the health department could recommend closing the swimming area, depending on the levels. Ultimately, the Douglas County Commission would be responsible for making that decision.
As for what is causing the elevated E. Coli levels, Ziesenis isn't sure. But he said he has noticed more ducks congregating in the swimming area than usual. How does that play into the E. Coli situation and those fecal colony units? Well, the ducks may be trained to take bread crumbs out of your hand, but let's just say that they are not trained to use the port-a-potties out there.
• When my wife goes to a craft show, I'm sometimes tempted to measure her purchases in fecal colony units. But I know many, many people love the craft circuit, and one of the bigger festivals in the area is coming up this weekend. That's right: Baldwin City's Maple Leaf Festival. (I've been to more than a decade's worth of those, and I can attest there is plenty of food on a stick to satisfy folks like me who aren't into the craft shopping.)
We previously have notified folks there is some major construction work under way along County Route 1055 that may hamper the ability of motorists to get to the festival. Specifically, a portion of County Route 1055 just north of Baldwin City is under construction. County officials are urging motorists to avoid the area by taking U.S. Highway 59 over to U.S. Highway 56, which leads into Baldwin City.
But the Baldwin City administrator recently called me and wanted to make sure that people know County Route 1055 won't be completely closed on Maple Leaf weekend. It will take some weaving through signs, but motorists will be able to get through the construction area, Baldwin City Administrator Chris Lowe told me. I'm not sure Douglas County officials, who are responsible for the roadwork, are thrilled about the idea, but Lowe said Baldwin City was committed to making sure there was a way for Maple Leaf visitors to get through the area.
I think, however, I would still avoid the 1055 area, if possible. (But, if it is the only way you can get meat on a stick, go for it.)
Copyright 2018 The Lawrence Journal-World. All rights reserved. This material may not be published, broadcast, rewritten or redistributed. We strive to uphold our values for every story published.