The Kansas State Board of Education agreed Wednesday to change the way statewide data about student test scores are reported, making it harder to track trends over time, especially for minority and low-income students.
But that difficulty is only expected to last another two years, until the state switches to a new set of tests aligned to the Common Core State Standards for reading and math.
In the meantime, the "State Report Card," which is available on the agency's website, www.ksde.org, will only reflect the scores from districts that use the standard state assessments for reading and math. Districts that use alternative tests such as the ACT Explore exam for middle and high school students will be reported separately.
Brad Neuenswander, deputy commissioner for learning services, said that will make it harder to follow trends or measure the achievement gap for certain groups because one of the districts that uses the alternative test is Kansas City USD 500, which contains about 20 percent of all black students in Kansas, 11 percent of all Hispanics and 7 percent of all low-income students.
Two other smaller districts, McPherson and Clifton-Clyde, are also using the ACT tests in lieu of the state exams in the upper grades.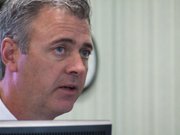 "It makes it more difficult because as three districts have sought waivers from using the current state assessment and using a different tool, it does make other comparisons more challenging on a statewide level," Neuenswander said.
Controversy over the two different tests erupted last month when the State Department of Education reported results from tests that students were given last spring. The initial findings showed overall scores in reading and math had actually declined and the achievement gaps for certain minority groups grew for the first time in more than a decade.
But Neuenswander explained to the state board that those results included the ACT scores from Kansas City and the other two districts. That test is considered more difficult because it's designed to measure college and career readiness. As a result, the standard for achieving "proficiency" on the ACT is higher than on the current state exams, which are designed to measure a student's readiness to advance to the next grade or to graduate high school.
As a result, Neuenswander said, students typically achieve lower scores on the ACT exam. And since the population of students taking the ACT test was heavily weighted with minority and lower-income students from Kansas City, it initially appeared that those groups had performed more poorly than they actually had.
The confusion between the two types of tests will only last another two years, Neuenswander said, as Kansas and other states transition to the new Common Core State Standards, which are also based around college and career readiness. Officials expect the new exams that are aligned to the Common Core standards to be ready for use by the 2014-15 school year.
A few days after the initial report came out, state officials issued revised numbers, taking out the ACT scores and showing only scores from districts that administered the state exams. That report showed little or no change overall in reading and math scores compared with the year before. And while it did show a widening achievement gap, the trend was much less pronounced than it had been in the previous report.
The State Report Card, as well as individual building and district report cards, are used primarily to measure compliance with the federal No Child Left Behind law. But board chairman David Dennis said the numbers are also important for state legislatures and the public.
"If you look at one group of people, they're going to say that money that goes into education doesn't make a difference because our scores didn't change much," Dennis said. "If you look at another group of people, they're going to say, 'Look at what happened with the funding cuts. We now have a gap that's growing greater,' and so forth."
For that reason, Dennis said, it's important for the department to issue reports that are accurate and not misleading.
Copyright 2018 The Lawrence Journal-World. All rights reserved. This material may not be published, broadcast, rewritten or redistributed. We strive to uphold our values for every story published.