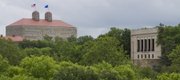 Subscribe to the email edition of Heard on the Hill and we'll deliver you the latest KU news and notes every weekday at noon.
Your daily dose of news, notes and links from around Kansas University.
• The KU Homecoming Steering Committee on Tuesday announced a couple of big names who'll be involved with next week's Homecoming Parade. Olympic gold medalist Diamond Dixon will serve as grand marshal, and former U.S. Sen. Bob Dole will be the honorary grand marshal.
Dixon, a KU junior from Houston, won a gold medal at the London Olympics in August as part of the 4 x 400-meter relay team.
Also of note regarding this year's parade: After regularly being held before the homecoming game on Saturday each year for about a decade, for the 100th iteration of KU's homecoming this year it will move back to its original time: Friday evening.
That's a move that looks even wiser with the just-announced scheduling of the homecoming football game against Texas at 11 a.m. Saturday. Last year's homecoming game started at the same time, forcing an 8 a.m. start for the parade.
But this year's is set for 6 p.m. Friday, and will be followed by a pep rally, a new event this year. Look for more on those and other homecoming events later this week.
• Speaking of homecoming: As we mentioned, this will be the 100th edition of the celebration at KU. As such, we'd like to take a look back at homecomings past and see how things have changed.
We know that such traditions as the selection of a homecoming queen and a "Hobo Day" on campus have gone away, but we're curious about what else has changed.
So, to all you alumni out there: If you have a good homecoming story, or if you've attended your share of homecomings and seen how things have changed, I'd love to hear from you. Drop me a line at merickson@ljworld.com or 785-832-6388.
• Forbes magazine took a look Tuesday at a KU physicist's theory about a mass extinction on Earth about 440 million years ago.
Adrian Melott, a KU physics professor, led a group that put forth the theory that the extinction was caused by a gamma-ray burst from elsewhere in the galaxy, which destroyed the Earth's ozone layer.
The Forbes story examines the difficulty of proving such a theory, partly because doing so would require the seemingly quite different scientific fields of astrophysics and paleontology to come together. If scientists can arrive at some proof, it could help them know what would happen if another gamma-ray burst struck the earth.
But it ends with a nice, uplifting thought from Melott: there's no way to predict if it will indeed happen again. It could happen in five minutes, or 200 million years from now; there's no way of knowing.
• As long as we aren't struck by any gamma-ray bursts, you can rest assured that Heard on the HIll will be here — maybe even 200 million years from now. Keep it here by sending your KU news tips to merickson@ljworld.com.
Copyright 2018 The Lawrence Journal-World. All rights reserved. This material may not be published, broadcast, rewritten or redistributed. We strive to uphold our values for every story published.