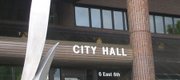 Subscribe to the email edition of Town Talk and we'll deliver you the latest city news and notes every weekday at noon.
News and notes from around town:
• Novelty mustaches, skull caps, "hippie attire" and chunks of scented soy wax. It sounds like a giant advertisement for some of the hipsters who roam Downtown Lawrence, and soon it will be the inventory of a new Lawrence retailer. (What? You haven't seen people walking around Mass. with novelty mustaches? Don't tell me that 'stache was real.)
Broker Allison Vance Moore with Lawrence's Colliers International has confirmed she's signed a deal with Earthbound Trading Company for a retail spot along Massachusetts Street.
The deal is sealed, but the exact location of the store hasn't been announced yet out of sensitivity to an existing tenant that is looking for new space to relocate.
But expect Earthbound Trading Company to open this spring. According to its Web site, the retailer dates back to 1994, and it describes itself as an "eclectic" retailer that offers "multicultural merchandise" from a variety of "artisans, craft co-ops and exporters from all over the world."
And yes, at least at various times of the year, that includes novelty mustaches. Check out the store's Facebook page to get a better idea of what type of vibe this place will have. Currently, it looks like the store has a "curiosity shop" theme to it for the Halloween season, including everything from Venetian masks to Edgar Allen Poe items.
But overall, it appears the retailer is looking to tap into a dual trend of appealing to folks in the Green Earth movement (I may have just made up a movement, but you know what I mean) and to customers with international sensibilities. (Yes, I did just apply the word "sensibilities" to a store that sells novelty mustaches.)
Anyway, my understanding is the store's location is likely to be in the 900 block of Massachusetts Street. The company currently has a store in Salina, but its other nearest locations appear to be in Omaha, Lincoln and Joplin. The company's Web site indicates the retailer is in an expansion mode with new stores planned for Independence, Mo., Madison, Wis., and about eight other locations.
• This tip may be as phony as a fake mustache, so take it for whatever you think it is worth. But I have now heard from two Lawrence residents that they have heard that Jazz, A Louisiana Kitchen is going to open a Lawrence location.
My sources — imagine this — were listening to 810 WHB sports talk radio, which has a weekly segment sponsored by Jazz. Some of the banter during that segment apparently included talk to keep an eye open for a new Jazz location in Lawrence. (Did anybody else hear that? Sometimes my "sources" combine sports talk radio with a certain beverage that creates memory loss.)
I haven't yet found the right person to talk to at Jazz, but when I hear more, I'll let you know.
For those of you not familiar with the restaurant, it has locations in The Legends and Kansas City, Mo., and features Cajun-style food and live music.
UPDATE: Well, don't get your gumbo bibs out quite yet. I got in touch this morning with Lee Allred, a partner in the Jazz restaurants in Kansas City, and he said the company isn't currently in any negotiations to open a new location in Lawrence. Like me, he didn't hear what was said on the radio program, so he doesn't have a full explanation for that, but he did say the company has definitely looked at Lawrence before.
"We have looked at that market," Allred said. "It is something that if we did it, we would do a smaller store, nothing huge like we have in Kansas City. If we did something, it probably would be on Mass. Street."
My gut tells me to keep an eye open, but maybe that is just the gumbo talking.
• From red-hot Cajun food to news about the folks who put out red-hot fires. Lawrence-Douglas County Fire & Medical is slated to win approval tonight for a new $972,000 fire truck.
City commissioners at their 5 p.m. meeting are scheduled to approve the bid for the new quint unit, which is a phrase that describes a fire truck that has a large ladder but not as large a ladder as what the industry calls a ladder truck. (I wonder if quints have an inferiority complex.)
The truck marks the fourth major piece of fire equipment purchased by the city since voters approved the 2008 infrastructure sales tax. If you remember, part of what was sold to voters is that $500,000 a year of the tax would be put aside to upgrade the city's fire department fleet.
But perhaps you have forgotten — because I did — that the city's 2012 budget tweaked that plan significantly. When the budget started to get tight, commissioners agreed to apply $250,000 of the fire department money to street improvements in order to keep street maintenance steady without having to raise taxes to do so.
Unless commissioners reverse course, though, that means that less than half of what was promised to voters for fire department funding actually will come to fruition. According to the new plan that is part of the budget, the city will set aside just $600,000 of the sales tax money between 2013 and 2018 when the tax expires. Originally the city planned to set aside $3 million during that time period for fire department equipment. But City Manager David Corliss told me recently he still believes the city will be able to purchase all the new fire equipment it had envisioned. The infrastructure sales tax plan calls for five more pieces of equipment to be bought before the tax expires in 2018.
The difference, however, is the city will have to issue more general obligation debt than originally envisioned. The city always knew it would have to issue some debt to upgrade the fire fleet, but now it will have to issue -- if my calculations are right -- about $2.4 million more in debt than originally planned.
So far, the city has figured out how to issue the new debt without raising taxes. For those of you who spend way too much time at City Hall, you perhaps have heard the general rule-of-thumb that the city can issue about $5 million in new debt per year without needing a tax increase.
Well, that thumb has kind of swelled up like mine does after a carpentry project that involves a hammer. In 2013, for example, the budget calls for $13.8 million in new general obligation debt. The largest portions are $6 million for new infrastructure for a proposed business park at the former Farmland Industries site and $3 million for infrastructure for whatever the city decides to do related to a new recreation center. The city is able to add that $13.8 million in new debt without a property tax increase.
The reason is because the city's bond and interest fund has a very sizable amount of reserves. In 2011, the city's bond and interest fund had $8.49 million in its reserve account, so to speak. That's a lot, considering the fund had total expenses of about $9.9 million. It is a sign that the city hasn't issued debt at near the rate some other communities have, or really even at the rate that city budget makers had once planned.
That may change in the future. As the city considers a recreation center, a new business park and possibly a new police headquarters building, it will be interesting to watch what happens with that pot of money.
Copyright 2018 The Lawrence Journal-World. All rights reserved. This material may not be published, broadcast, rewritten or redistributed. We strive to uphold our values for every story published.