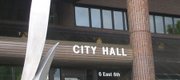 Subscribe to the email edition of Town Talk and we'll deliver you the latest city news and notes every weekday at noon.
News and notes from around town:
• Health food fans, rejoice. It looks like fruit salads can be a regular part of our downtown lunch diets once more.
As we hinted last week, Massachusetts Street is once again going to have a full-service candy shop, and appropriately it will be called Mass. Street Sweet Shop.
(For those of you who don't live as healthy of a lifestyle as I do, you may not know that candy shops traditionally have the best fruit salads. It is odd, but it seems only candy shops can get the miniaturized version of fruit known as Runts. Strawberries, bananas, grapes, and other fruit so fresh you would swear it was made from pure sugar. I can feel the healthy instincts of my body already kicking in.)
As we previously reported, the sweet shop will move into the space currently occupied by The Cupcake Construction Company, 727 Mass.
But unlike when we last reported on the business, the new owners are ready to talk. The store will be operated by longtime Lawrence resident Michelle Miller and her family.
The first order of business for the shop was to secure a deal with The Cupcake Construction Company to take over its recipes, equipment and other items needed to keep the cupcake operation going.
"We think the cupcake part of the business already is outstanding," said Brian Jimenez, Miller's brother and the spokesman for the new business. "We would be fools to change that because lots of people love that. But we are going to be a full-blown candy store on top of that."
The store is planning to carry more than 100 different types of candies. Plans also call for flavored popcorn, cinnamon and glazed nuts, chocolates and about 16 flavors of hand-dipped ice cream.
The business makes no bones that it is trying to fill a void left by the closing of Penny Annie's, a longtime candy shop that moved to downtown Eudora. Unlike Penny Annie's, the new sweet shop won't serve sandwiches and other menu items, at least not yet. But Mass Street Sweet Shop will try to keep later hours than other candy stores have.
"We want to be available for people who want an after-dinner treat," Jimenez said.
The business clearly is trying to please my doctor as well. Soon I will be able to tell him that I'm having fruit salads both for lunch and supper.
Look for the business to open during the first week of November.
• For those of you worrying about my health, it may ease your mind to know that I drink lots and lots of water. (I'm so health conscious, I sometimes take the extra precaution of sanitizing each glass of water with an ounce or two of alcohol.)
Lawrence has some high-tech, expensive water treatment equipment, so I'm pretty sure that's not necessary. But what is necessary is the city needs to sell significant amounts of water to pay for all the equipment, especially a $15 million expansion of the Clinton Water Treatment plant that was completed several years ago.
Well, there is good news on that front. The city is set to sign a new agreement with its second largest water customer: the city of Baldwin City.
In addition to providing water to Lawrence residents and businesses, Lawrence also sells treated water to wholesale customers like rural water districts and other cities.
Baldwin City officials, however, had been contemplating ending their 35-year relationship with the city. In recent years, Baldwin leaders had grown upset that the rate Lawrence charges its wholesale water customers increased at a pace much quicker than the rate increases for residential and business customers inside the Lawrence city limits.
The negotiations took quite awhile, but City Hall staffers are now recommending a new agreement that states the rate the city charges Baldwin City will not increase at a rate greater than the average percentage increase for a normal residential water user in Lawrence. In other words, if Lawrence leaders want to increase the water rate of its largest wholesale customer, it also is going to have to take the politically painful step of increasing rates for Lawrence residents.
The agreement should give Baldwin some long-term stability on water rates. The agreement will run through the year 2052. The agreement also should ensure that Baldwin has plenty of water for years to come. Baldwin used 195.5 million gallons of water in 2011. The new contract guarantees Lawrence can treat up to 323.1 million gallons of water for Baldwin — Baldwin actually owns the water rights and the city just provides the treatment. But the agreement also gives Baldwin City an option to purchase water held under rights by the city of Lawrence, if needed.
The agreement likely will be seen as good news for Lawrence too. Only Kansas University buys more water from Lawrence than Baldwin City does. The thought of losing Baldwin City's business was particularly disconcerting to some city commissioners, especially after the city had undertaken major expense to expand the capacity of the Clinton Water Treatment Plant.
Word around City Hall is that Lawrence wants to try to be the "Walmart of water," meaning that it wants to sell treatment services to a variety of water districts and cities in the area. This new deal may help in that regard too. Baldwin City was in deep negotiations to form a new water treatment cooperative that would have rebuilt a water treatment plant at the former Sunflower Army Ammunition site near De Soto.
I haven't talked to Baldwin City officials since the new deal has come forward, but I assume Baldwin won't be a partner in that new project. Whether the loss of Baldwin City will kill those efforts in De Soto is a real question.
• Speaking of new deals, there is a bit of a new structure for economic development in Lawrence and Douglas County. As we previously reported, the city and the county both approved the creation of a new Joint Economic Development Council.
The 12-member council will make recommendations on economic development policy, and will review the budget of the Lawrence Chamber of Commerce's economic development division. Both the county and the city are tasked with appointing two community members to the council.
City commissioners on Tuesday are set to appoint their two members, and one of them has been in the news for fighting a multi-million dollar downtown Lawrence development.
Mayor Bob Schumm is recommending that Leslie Soden and Jon Josserand be named to the board. Soden is the East Lawrence Neighborhood Association president who led the opposition to the proposed multistory hotel building at the southeast corner of Ninth and New Hampshire. Soden also is one of the founders of Madre Lawrence, a new group that has raised concerns that Lawrence city government doesn't have enough diversity in its leadership ranks.
Josserand also is no stranger to City Hall. Josserand is a member of the Lawrence-Douglas County Planning Commission, and has been a longtime supporter of the city's Sister Cities program, which has been a passion of Schumm's as well. Previously, Josserand was a longtime lobbyist in Topeka for KU.
The city's appointments are in addition to two already made by Douglas County. Late last month the county agreed to appoint former Lawrence City Manager Mike Wildgen and Jeremy Farmer, the executive director of Just Food.
The Lawrence Chamber of Commerce also gets to appoint two members from the business community. I haven't yet heard who those appointments are, but I'll check because I believe the council will start meeting soon.
Copyright 2018 The Lawrence Journal-World. All rights reserved. This material may not be published, broadcast, rewritten or redistributed. We strive to uphold our values for every story published.