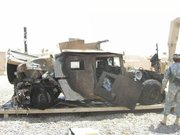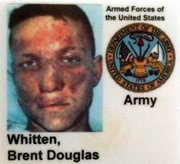 Wounded Warriors Project to be honored
The Wounded Warrior Project will be the recipient of the 2012 Dole Leadership Prize, presented at 4 p.m. Sunday in a program at the Dole Institute of Politics on Kansas University's West Campus.
It will be the first-ever organization to receive the $25,000 prize, which in the past has been awarded to former President George H.W. Bush, former New York Mayor Rudolph Giuliani and others.
The group helps injured veterans adjust to life after military service.
"They are strong, powerful advocates for the people who are really not willing to ask for help," said Rachel Whitten, the wife of Wounded Warrior beneficiary Brent Whitten.
Brent Whitten, a KU student and Army veteran injured in Baghdad in 2006, will be one member of a four-person panel of guest speakers at the program Sunday. Others will be Steven Nardizzi, who co-founded the Wounded Warrior Project in 2003 and is now executive director; Shane Parsons, a Wounded Warrior from Ohio who sustained serious injuries in Iraq in 2006; and Cindy Parsons, Shane's mother and caregiver.
Dole Institute Director Bill Lacy will interview the panel.
A community celebration will follow the program at 5:30 p.m., and it will include food, music and a period war-plane flyover at 6 p.m. Behind-the-scenes tours of the Dole Archive, the institute's collection of records from former Sen. Bob Dole's career, will also be available. The tours last about 20 minutes, and information on tours will be available at the welcome table at the institute's entrance.
Brent Whitten couldn't see anything as his Humvee drove through the streets of Baghdad on Sept. 9, 2006.
It was his third day in a new role. As a gunner, his orders were to keep his head down inside the turret atop the vehicle unless told otherwise, in case of snipers. So when a suicide bomber drove his van filled with explosives into the Humvee's right side, Whitten had no idea what had happened.
"I remember all of a sudden just, like, waking up from a nap I never took," he said.
He was knocked out by the resulting blast — he would later find out he had a concussion. He awoke with the frantic anxiety of someone afraid he's late for work.
His hands looked melted, and his uniform was black. He couldn't move his legs. But he could see that the inside of the Humvee was filled with flames, so he pulled himself up out of the turret with his arms and rolled onto the street below.
To understand why Brent Whitten will be at the front of the room Sunday as the Wounded Warrior Project receives the 2012 Dole Leadership Prize at the Dole Institute of Politics, you can start here. But you have to continue to today, six years later, as he studies for midterms and figures out how to fit an economics course into his schedule next semester and needs to get back home to Topeka by 4 so he can pick up his 7-year-old son at the bus stop.
"I always try to have objectives," Whitten said.
When he enlisted in the Army as a junior at Washburn Rural High School in Topeka, his mission was simple: Become a soldier.
"He wasn't going to go to college," said his wife, Rachel Whitten. "He was going to join the Army, and that was going to be it."
He graduated from Washburn Rural in May 2004. One week later, he married Rachel. One week after that, he found out she was pregnant. And one week after that, he left for basic training in Fort Benning, Ga.
Things were proceeding as planned. But sometimes, your objective changes.
Mission: Graduate on time
Whitten, 27, is majoring in journalism at KU with a minor in history.
To explain how he feels sometimes when he's sitting in his classes at KU, Brent pulls out his iPhone and displays a picture from the movie "Billy Madison": an adult Adam Sandler, brow furrowed with confusion, sitting in an elementary classroom, surrounded by children.
It's not just that he's six or seven years older than most of his classmates that sets him apart.
"As an adult, priorities are different," Brent said. "That's just a fact. It is what it is."
He doesn't opt to hit a bar downtown after class, or stick around campus to attend an evening meeting of a student group. Instead, he drives for half an hour from Topeka in the morning, takes another half-hour to find a parking spot and walk to class and makes sure to get back home by 4 to pick up Colter, his 7-year-old son.
"He's got his missions," Rachel said. "He completes them and then goes home."
He does go to KU football and basketball games when he can, usually by himself, and he wears headphones to listen to Bob Davis call the games, just as he would listen to him when he was growing up.
But other than that, he's in class, at home or somewhere between the two.
Once upon a time, college was the furthest thing from his mind. But after his Army career ended three years earlier than expected with a medical separation in 2007, things changed. In 2009, he used the G.I. Bill to go to KU — the only school he considered, he said.
"He knew he needed to take care of his family," said Tiwana Whitten, his mother.
He majored in journalism at the recommendation of Rachel, a Washburn University journalism graduate who now works as a public information officer for the Kansas Department for Children and Families.
He's on track to graduate in May — an important goal because that's as long as the G.I. Bill will pay for his tuition.
He hopes to get a job working with social media after he graduates, he said, but any job that will put his education to use will do.
Mission: Carry others
A few days after the attack on his Humvee, after visiting two hospitals in Iraq and one in Germany, Brent ended up at Brooke Army Medical Center in San Antonio, because of the hospital's world-class burn unit.
His clothes stayed in Baghdad, though, and all he had to wear was a hospital gown. Then a backpack arrived, from the then-upstart Wounded Warrior Project, filled with clothes: a shirt, shorts, a jacket, a hat.
"That held me over until I could get out on my own, or have my wife come shop for me," Brent said.
When Rachel did finally see him for the first time since he'd deployed to Baghdad in December 2005, his face was still covered in burns, his nose purple.
"The image is burned in my mind," Rachel said.
But the burns healed within a couple of weeks, Brent said, with nothing required but a daily changing of bandages.
"No surgery," Brent said with a smile. "Just Red Bull and steak."
He stayed at BAMC until January, save for a monthlong leave at home in Topeka. The real recovery was from a broken pelvis — the result, according to Brent's theory, of being struck with thick, bulletproof glass from the Humvee's windows. He progressed from wheelchair to crutches to cane, and today he walks without a problem.
Today his face and hands are free of scars — to doctors' surprise, he said. The only lasting effect of the blast are severe headaches that he never had before his concussion.
About two years ago, he was featured in a magazine produced by the Wounded Warrior Project, a Florida-based organization dedicated to helping smooth the transition back to regular life for injured veterans.
He's made appearances in places ranging from New York to Alabama, as well as on packages of Brawny paper towels, along with Colter.
The group also provided him with communications training, something Tiwana said has served him well for the future.
"I think it's built his confidence a great deal," Tiwana said.
Brent explained this particular mission by pulling off his Wounded Warrior Project hat and pointing to the organization's logo, a silhouette of one soldier carrying another over his shoulders.
He was once the soldier on top. Now, it's his turn to be the one on the bottom.
"They helped me out, and I might as well help them out, other wounded warriors," Brent said.
He said the injuries that cut his Army career short are something to look back at and laugh about, not something to dwell on with regret. After all, many other soldiers have experienced worse.
"You can't sit around and mope about things," Brent said.
Better, instead, to get on to the next objective.
Copyright 2018 The Lawrence Journal-World. All rights reserved. This material may not be published, broadcast, rewritten or redistributed. We strive to uphold our values for every story published.