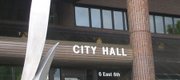 Subscribe to the email edition of Town Talk and we'll deliver you the latest city news and notes every weekday at noon.
News and notes from around town:
• I'm sure you all spent a restless night trying to figure out who won the vice presidential debate last evening. (Or perhaps you're still trying to figure out how your Grandpa got on Twitter and made "malarkey" a trending topic.)
Well, there's a new company in Lawrence that may care more about that sort of stuff than the average Joe. (Well, there's one Joe that cares quite a bit about it.)
Longtime Washington, D.C., politico Mark Sump has moved his offices for his political consulting and technology firm to Lawrence.
Sump is the owner and founder of Activate, a company that provides calling technology to Democratic campaigns across the country. The company recently opened an office and call center at 941 Ky.
"I'm loathe to confess this, but I was the first one to use robo-calls in a campaign," Sump recently told me.
But that's not the business Activate is in now. Sump in 2005 created a new technology that gives campaigns a way to equip their volunteer calling teams with the same type of high-speed dialing technology that expensive, professional calling centers use.
"Instead of five to 10 calls an hour, a volunteer team can now do 35 to 40 an hour," Sump said. (Fair warning, Mark: The next time my phone rings during dinner, I'm calling you.)
Activate's Lawrence office currently has just two full-time employees and about 23 part-time employees. The company still has a larger office in Minneapolis.
Many of the part-time employees staff a new call center that Sump has opened. Sump began working on Democratic campaigns in the late 1980s. (I'm sure you all remember the rousing Dick Gephardt campaign in 1988.) Sump has been on the "circuit," he said, ever since.
Sump ended up hooking up with a slightly more successful Democratic candidate in the 1990s. Sump was part of the Bill Clinton campaign team, and Sump stayed on the campaign staff for the entire eight years of the Clinton presidency.
"I was very fortunate to travel the world with the Clintons," Sump said. "I can tell you that being in such close proximity to the president of the United States is very interesting."
Sump believes his contacts in the Democratic party will bring some polling business to his new Lawrence call center. Sump chose Lawrence for the new venture because he received his undergraduate degree from KU in the mid-1980s. Now, he is working on his doctorate in political science from KU.
By the time he completes his doctorate, Sump believes he'll be ready to launch the next phase of his company, which he is predicting will involve creating a new paradigm for how campaigns reach voters.
"The modern communication formula for campaigns hasn't changed in a long time," Sump said. "Today, 60 to 70 percent of the budget still goes to the TV guys. Communication has changed so dramatically that there is no way that formula makes sense anymore."
Sump plans to do his dissertation on new communication strategies for campaigns, and he's optimistic that will lead to a thriving business in Lawrence.
"Whatever my next big thing will be, I can tell you it will be here in Lawrence," Sump said.
• Sump told me that to get his new call center up and rolling, he has conducted what he's calling the Jayhawk Poll. It may end up being the only poll that checks in on the presidential race in Kansas. That is, of course, because there's little doubt that Kansas' electoral college votes are going to Republican Mitt Romney.
But Sump said he did include some questions not related to the presidential race. My understanding is the poll should provide some numbers on an approval rating for Gov. Sam Brownback. Sump said he would provide me a copy of the results, so I'll pass them along when I get them.
• If the vice presidential debate were held in Lawrence last night, surely there would have been a question about the city's new policy that all single-family homes use a city-provided trash carts. (Carts: malarkey or no malarkey, debate.)
The cart program will get in full swing on Monday. The city's cart vendor will begin delivering carts to selected neighborhoods on Monday and will continue deliveries on pretty much every weekday through Nov. 9.
"The goal is to deliver 800 to 1,000 carts per day, and when we are complete, just under 20,000 households will get a trash cart," said Megan Gilliland, spokeswoman for the city.
Gilliland said the city is allowing its vendor to set its own delivery routes, so information on when particular areas of town will receive their carts isn't yet available.
"It really could be coming any day," Gilliland said.
The cart will be left at residents' curbs. Gilliland said each cart also will come with a packet of information that contains answers to frequently asked questions, and provides the dates (Nov. 9 and Nov. 16) for when the city will collect and recycle old trash cans that households no longer want.
The information also will advertise the city's hotline — 832-3032 — where people can call to ask questions about the program.
Copyright 2018 The Lawrence Journal-World. All rights reserved. This material may not be published, broadcast, rewritten or redistributed. We strive to uphold our values for every story published.