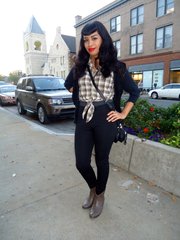 Age: 23
Relationship status: None
Hometown: Koreatown in Los Angeles
Time in Lawrence: Just got here
Occupation: student and server
Dream job: Environmental geologist
What were you doing when scouted? Just walking around
Describe your style: Vintage retro, a little rockabilly, a little punk
Fashion trends you love: Red lipstick, dresses with boots, dark colors
Fashion trends you hate: UGGs with skirts, leggings as pants
Fashion influences: the '50s, Bettie Page
What would you like to see more of in Lawrence? I love bars like the Bottleneck and the Jackpot
Less of? I haven't been here long enough to say.
Tattoos or piercings? Seven piercings, no tattoos yet
Who do people say you look like? Rosario Dawson, a Mexican Bettie Page
Tell us a secret … I'm scared of heights, but I still go hiking.
Copyright 2018 The Lawrence Journal-World. All rights reserved. This material may not be published, broadcast, rewritten or redistributed. We strive to uphold our values for every story published.