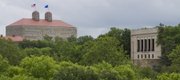 Subscribe to the email edition of Heard on the Hill and we'll deliver you the latest KU news and notes every weekday at noon.
Your daily dose of news, notes and links from around Kansas University.
• My ears perked up as I was listening to this week's edition of the Slate Hang Up and Listen sports podcast this morning when I heard the three hosts would be discussing "There's No Place Like Home," the upcoming ESPN documentary about the quest to bring James Naismith's original rules of basketball to KU (which, in case you don't recall, KU plans to place in a new student center next to Allen Fieldhouse).
But when I got to that portion of the podcast, well, let's just say that if their talk were transcribed and catalogued on the website Rotten Tomatoes, it could safely be placed in the "Rotten" category.
They spend nearly 10 minutes bashing the film, criticizing the filmmaking method and other aspects. It's really quite blistering, and this from guys who aren't usually prone to hyperbole.
But one major element of their criticism is their contention that the film doesn't do enough to show people why they should care if the rules come to KU or not — unless they are KU fans. So I imagine that a good deal of the criticism won't really mean much to many of this blog's readers, who likely have a proper grounding on Naismith's role in the basketball program's history.
If you want to listen to their review, you can start at about the 47:25 mark of the podcast episode, linked above. I wasn't able to find any other reviews of the film online yet; if you spot any, feel free to send them along.
The documentary airs on ESPN at 7 p.m. next Tuesday, Oct. 16.
• A KU piano student performed this past weekend at Carnegie Hall in New York.
Inge Buniardi, a doctoral student, was given the chance to play there Saturday after finishing in second in an international competition with a performance of Rachmaninov's "Concerto No. 2 in C Minor, Op. 18."
Buniardi's been playing piano since she was 7, and she's won a bundle of awards. She's studying with Steven Spooner, an associate professor of piano in the School of Music.
• After I pointed in yesterday's HotH to a directory of KU entities on Twitter, the KU Alumni Association passed along another nifty tool. (By the way, I wrote earlier this week on the association's efforts to improve recruitment of the children and grandchildren of KU alumni.)
Using Twitter's "List" function, the folks there have created a directory of seemingly every Twitter account connected to KU that they could find — save for the fake ones. Unlike that list from yesterday, this one includes staff members and student groups in addition to KU offices and departments.
It certainly proved useful for me, and it could do the same for you.
• Feel free to send along your reviews of Heard on the Hill, be they "Rotten," "Fresh" or somewhere in between. But more importantly, send your KU-related news tips to merickson@ljworld.com
Copyright 2018 The Lawrence Journal-World. All rights reserved. This material may not be published, broadcast, rewritten or redistributed. We strive to uphold our values for every story published.