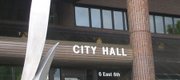 Subscribe to the email edition of Town Talk and we'll deliver you the latest city news and notes every weekday at noon.
News and notes from around town:
• Well, all streaks must come to an end — and no, this isn't an article about the Kansas University football team. Instead, this is about a streak Lawrence fans didn't want to see end.
The city's latest sales tax collections are in the books, and the September report is the first one in 12 months that posted a decline compared to the same period a year ago.
Due to a lag in the reporting process, the city's September sales tax report actually is for sales made from mid-July through mid-August. So that would indicate the back-to-school shopping period in Lawrence wasn't quite as robust as it was the year before.
For the period, Lawrence retailers tallied $98.4 million in sales. That is the lowest total for the period — even when not adjusted for inflation — since 2007. When adjusted for inflation, it appears the total is the lowest since at least 1995, which is how far my records date back. (My abacus started smoking, though, so I can't make that claim with complete certainty.) But, regardless, the back-to-school shopping period appeared to be a bit of a stinker.
The good news is that it is just one month. The rest of 2012 has been pretty darn good when it comes to retail sales in the city. With nine months in the book, the city is still projecting sales tax collections to come in $1.1 million more than budgeted in 2012.
Here's a look at total retail sales in Lawrence through the September reporting period compared to the same period in past years. The numbers in parentheses are the sales totals adjusted for inflation in 2012 dollars:
— 2012: $1.00 billion
— 2011: $947.92 million ($970.84M)
— 2010: $916.52 million ($968.32M)
— 2009: $930.70 million ($999.43M)
— 2008: $966.22 million ($1.03B)
So, in other words, even when adjusted for inflation, Lawrence retailers are on track to have their best year since the pre-recession days of 2008.
But it will be interesting to see if the rest of 2012 finishes strong or whether the retail economy shows signs of losing momentum. As a certain football team can tell you, it often is not how you start but rather how you finish that makes the difference.
• Speaking of momentum, my diet may soon be gaining some. There are signs that changes are on the way for a downtown sweet shop.
The Facebook page of Cupcake Construction Company, 727 Mass., announced last night that its "last day on Mass. Street" will be Oct. 27. The posting also says customers have until then to use all coupons and gift cards.
The posting, however, also says the company will be honoring all orders it has received for weddings and special events. So, I'm not sure yet what the future holds for the Cupcake Construction Company, which was unique in that you could pick your own flavor of cake and your own flavor of icing and they would inject the icing into the cake. (I did not have any luck in getting them to squirt the icing directly into my mouth. It seemed more efficient to me.)
I put a call into the store this morning, but haven't heard anything back yet. I'll let you know if I hear of the cupcake shop opening in another location, or since they said they are only leaving Mass. Street, perhaps they will start selling cupcakes in the back alleys of downtown. (I would buy them.) I hope to have an update later today. Since the business is basically across the street from my office — and since they sell cupcakes — I suspect I will figure out a way to get over there.
UPDATE: So much for my diet gaining momentum. It looks like a new business is slated to go into the spot near the beginning of November, and it will sell . . . both cupcakes and candy. A representative with the new business gave me a call and confirmed a deal has been struck for his family business to move into the space, but talks are still underway with The Cupcake Construction Company about some cupcake matters.
The representative declined to talk on the record because the deal is still pending, but the family is one that has been in Lawrence for quite awhile and that folks will recognize.
"We really want to bring a candy store back to Downtown Lawrence," the representative said.
Downtown Lawrence certainly has some places where you can get some sweets — frozen yogurt, ice cream, cupcakes, and a chocolate shop to name a few — but it has been without the traditional candy store since Penny Annie's closed last year.
I think the new group will be ready to start talking about the next week.
• Speaking of mysteries, some of you have been wondering when the new four-lane section of U.S. Highway 59 will open. The Kansas Department of Transportation previously had said the multimillion-dollar project would open to traffic during the first week of October.
After about the fourth barricade I hit, I began to realize that the road perhaps was still closed. A spokeswoman with KDOT now tells me that the new stretch of highway is expected to open next week.
No word on what caused the delay, but crews continue to work on finishing final details such as lane markings, sign installation and other details. (Picking up busted barricades? In my defense, I had cupcake frosting on my glasses.)
Copyright 2018 The Lawrence Journal-World. All rights reserved. This material may not be published, broadcast, rewritten or redistributed. We strive to uphold our values for every story published.