Topeka — Legislators and county officials on Tuesday said Gov. Sam Brownback's veto of funding for an environmental program will come back to haunt the state.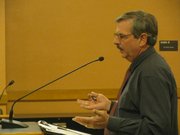 "The decision to not fund LEPP (the Local Environmental Protection Program) is a penny-wise and pound-foolish decision," said state Sen. John Vratil, R-Leawood.
LEPP, which started in 1990, provided grants to local health departments to help enforce, inspect and monitor wastewater and water systems.
The relatively low-cost program — $750,000 in its final year out of an approximately $15 billion overall state budget — was touted as an effective partnership between state and local governments to protect drinking water.
Without LEPP, the state will see more health problems, increased lawsuits, non-compliance with federal environmental laws and skyrocketing local fees for putting in septic tanks and other systems, officials said.
State Sen. Carolyn McGinn, R-Sedgwick, and chair of the Legislative Budget Committee, described the elimination of the program as "short-term conservatism versus long-term conservatism." State Sen. Laura Kelly, D-Topeka, said the veto pushed costs down onto counties.
In his veto message earlier this year, Brownback said the program was never meant to be permanent. "The program was started in the early 1990s for the purpose of providing local governments with technical assistance and grant funds in order to establish environmental programs specifically suited for local priorities. Once the programs were established, the intent was to discontinue the state funding," he said.
But local officials, appearing before the Legislative Budget Committee, said LEPP had been so successful, it made no sense to kill it.
Richard Ziesenis, environmental health director of the Lawrence-Douglas County Health Department, said the $41,000 the country received, helped officials make sure that water wells and septic tanks were properly installed.
"The homeowner is relying on our expertise," he said. Without state funding, Douglas County has had to increase fees and depend more on the county for funding. There are approximately 5,000 septic systems in Douglas County, and about 500 of those are cleaned each year, which means the disposal of 500,000 gallons of septic tank waste, Ziesenis said. "That has to be treated and disposed of in a proper way," he said.
Other counties are in the same position. For example, the fee to install a wastewater system in Reno County had to be increased from a $90 to $275 once LEPP funds disappeared.
Darcy Bayse, environmental health coordinator of Reno County, said the state should reinstate the program. "This money assists counties in being fully staffed, purchasing proper equipment and keeping fees low for the public," she said.
Legislators said they feared cash-strapped counties would start cutting corners on making up the lost revenue, and that could lead to environmental and health hazards.
Vratil said the Kansas Department of Health and Environment doesn't have the resources to enforce minimum standards statewide, leaving that to counties that now face increased costs.
Copyright 2018 The Lawrence Journal-World. All rights reserved. This material may not be published, broadcast, rewritten or redistributed. We strive to uphold our values for every story published.